TV's Grant Imahara Gives a Glimpse Behind the Camera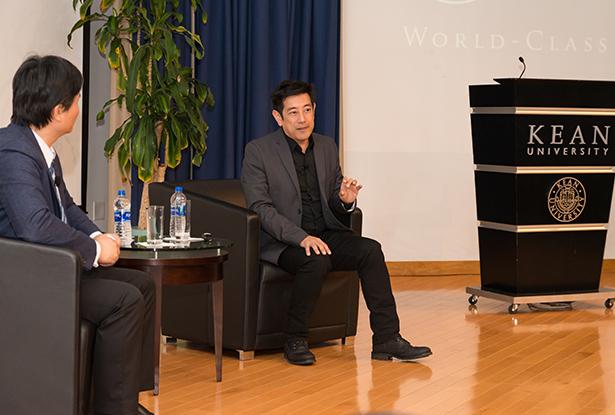 Kean's Distinguished Lecture Series wrapped up for the semester with a speech by animatronics engineer and movie model maker Grant Imahara who offered words of advice learned from his years as host of Discovery Channel's MythBusters.
"Be okay with failing, that is one of the most important concepts that I took away from MythBusters," he said. "We are taught that we should never fail, but in science, failure is how we learn. I am talking about failing early, trying a prototype, learning from it, and making a change to get to the ultimate design."
Before joining MythBusters, Imahara spent 10 years as a model maker at George Lucas' Industrial Light & Magic, working on 11 feature films. He currently hosts the Netflix series White Rabbit Project. He took the audience on a behind-the-scenes tour of his career, admitting that his favorite myth to bust was whether it's possible to play tennis on the wings of an airplane in flight. Debunking that myth involved adding airplane wings to a truck to simulate flight.
WATCH VIDEO: Nearly 1,000 Students and Faculty Present at Kean's Research Days 
Imahara spoke on the opening day of Kean's 10th Annual Research Days. A record number of students and faculty – 990 on Kean's campuses in Union and Wenzhou, China – presented their academic research at the two-day event. Kean alumnus Marvin Andujar '12, Ph.D., the director of the Neuro-Machine Interaction Research Lab at the University of South Florida, delivered the Keynote Address that kicked off the event.
"Don't just scratch the surface. Dig deep into the details. Strive to understand how things work," he told the students in attendance. "Find a good mentor who is very successful. Kean professors will help you through the journey. There are great Kean mentors who will walk you through everything, the uphills and downhills and help you reach your goal."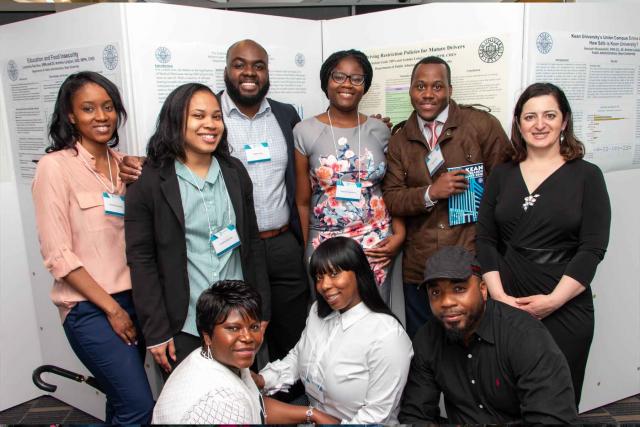 Provost and Vice President for Academic Affairs Jeffrey H. Toney, Ph.D. says research is a key component of Kean's world-class education.
"Research is an opportunity for students to create outside of the classroom. That's where the deep learning occurs," he said. "Research isn't bound by rules. It lets students explore with no boundaries."
Research Days challenges students, like senior biology major Rexella Bazile of Bloomfield, to explain and defend their research.
"We get a better understanding of the subject," she said. "We apply classroom work into research to showcase it and gain experience."
Winning the Undergraduate Researcher of the Year award was Sarah Mack of Flemington, a senior environmental biology major who has worked on multiple research projects related to waste-to-energy technologies, soil quality and sustainable farming techniques in China, and remediation of phosphorus lakes.
Maria Shumskaya, Ph.D. was named Faculty Research Mentor of the Year. Shumskaya and her students are working to identify species of dead wood inhabitants in New Jersey.
Photos/Captions:
Top Center: College of Natural, Applied and Health Sciences Dean George Chang, Ph.D. (left) conducts a Q&A session with TV's Grant Imahara (right), who spoke during Research Days as part of the Kean Distinguished Lecture Series.
Above Right: A record number of students and faculty – 990 on Kean's campuses in Union and Wenzhou, China – presented at Kean's Research Days, Tuesday, April 24 and Wednesday, April 25 in the STEM Building. 
Tagged