John S. Watson Institute for Urban Policy & Research at Kean University Statement on the Passing of the Honorable Lieutenant Governor Sheila Y. Oliver
Our hearts are heavy as we mourn the tragic loss of the Honorable Sheila Y. Oliver, the first African-American woman Speaker of the New Jersey General Assembly and the second in the United States to preside over a chamber of a state legislature.

Sheila Oliver carried out the ceremonial duties of the Office of Lieutenant Governor of the State of New Jersey with grace and style — she turned heads, quieted rooms, and roused audiences at ribbon-cuttings, groundbreakings and speaking engagements — but more than that, she championed many causes and took action to ensure that public policy addressed the needs of New Jersey's residents.
Lieutenant Governor Oliver, an inspiration to Black women and girls everywhere, oversaw the operations of nearly every major policy area under the jurisdiction of state government. When she was called on to serve as Acting Governor, she signed into law such monumental pieces of legislation as the Restorative and Transformative Justice for Youths and Communities Pilot Program to reduce youth involvement and racial disparities within the justice system. She faithfully executed her role as the Commissioner of the Department of Community Affairs, where she spearheaded the comprehensive overhaul and restoration of the Urban Enterprise Zone (UEZ) program, informed by the work of the Watson Institute, to undo decades of disinvestment in urban communities. She exercised her dual appointment as Lieutenant Governor and Commissioner of the Department of Community Affairs to oversee the operations of a broad array of crucially important divisions, offices and programs to help working people in the state have access to affordable housing and supportive services to prevent them from being unhoused.
Lieutenant Governor Oliver always spoke candidly about the issues and topics with which New Jerseyans of color contend in their lives. At a press conference announcing a Choice Neighborhoods Planning and Action Grant from the U.S. Department of Housing and Urban Development to reimagine Trenton Housing Authority (THA)'s Donnelly Homes, Lieutenant Governor Oliver challenged those in attendance to disrupt the reality in which Black women are perpetually relegated to low-paying, physically demanding jobs. She always reminded us that, like the title of a well-known Dickens novel, New Jersey must never embrace the realities of a "Tale of Two Cities," but instead, address the neglect of our urban centers so that we can truly be the beacon of hope and model for others in our nation.
We will forever remember Lieutenant Governor Oliver as one of the greatest public figures ever to have devoted her life and career to advancing the interests of urban communities and the quality of life of people of color – especially women of color – and all of New Jersey's residents. May she rest in peace and in power. We offer our sincerest condolences to her loved ones; the residents of her city, East Orange; and all those who served beside her at all levels of government.
About Us
The John S. Watson Institute for Urban Policy and Research celebrates the legacy of pioneering New Jersey Assemblyman John S. Watson. The institute comprises integrated policy centers and initiatives that support informed public policy. We serve as a vital, non-partisan resource for New Jersey decision-makers, supporting the development and implementation of real-world solutions. Learn more about our history and how we act as a catalyst for positive social change.
Urban Mayors Policy Center Supporting NJ Clean Communities Initiatives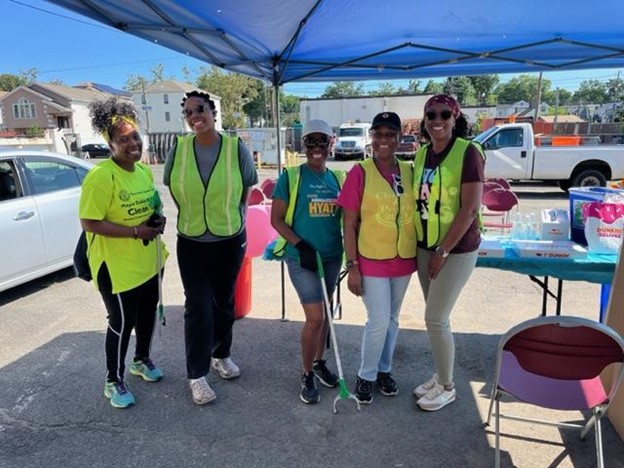 New Jersey Clean Communities (NJCC), New Jersey's only statewide, comprehensive, litter-abatement program has partnered with the Urban Mayors Policy Center (UMPC) to advance community cleanup efforts and support to urban centers awarded NJCC grants to address clean, healthy, and safe communities.
On July 22 nd , the UMPC kicked off a clean community's initiative in the Township of Hillside addressing litter on four business corridors. The kickoff engaged residents, youth and business and raised awareness to clean up efforts regularly. While the launch was held in Hillside, efforts will expand to other New Jersey Urban Mayor Association cities including Elizabeth, Roselle, Plainfield, & Linden.
To learn more about New Jersey Clean Communities visit, www.njclean.org.
For support in designing a clean community's campaign in your community, contact njuma@kean.edu.