The Kean M.A. in Fine Arts program offers three options for graduate students, creating the opportunity to work with fellow artists and expert instructors in a dynamic university setting. Students are guided toward exploration, experimentation, and mastering skills and techniques, as well as understanding concepts and history that shape the artistic process. 
The three options for advanced study are:
M.A. in Fine Arts, Teaching Certification is a 41-credit academically intensive program for students who wish to become professional certified art teachers. Kean graduates do exceptionally well at obtaining teaching positions in New Jersey and beyond.
M.A. in Fine Arts, Studio is a 33-credit program designed for students interested in pursuing advanced work in the studio arts. This program provides opportunity for practicing artists and art educators to enhance their professional practice and increase earnings. Many school districts offer financial support for teachers who pursue this advanced degree.
M.A. in Fine Arts, Supervision Certification is a 30-credit program designed for certified art teachers who seek additional educational background for career advancement, and certification for supervisory and administrative positions. In some cases, school districts will provide financial support for teachers pursuing this graduate degree.
Kean's Fine Arts graduate program brings together working artists, teachers and professionals, who engagw with their artistic passions in pursuit of specific career goals.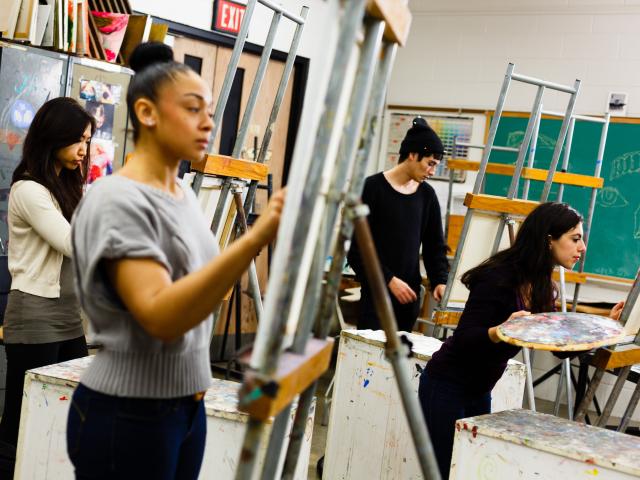 Other programs you might be interested in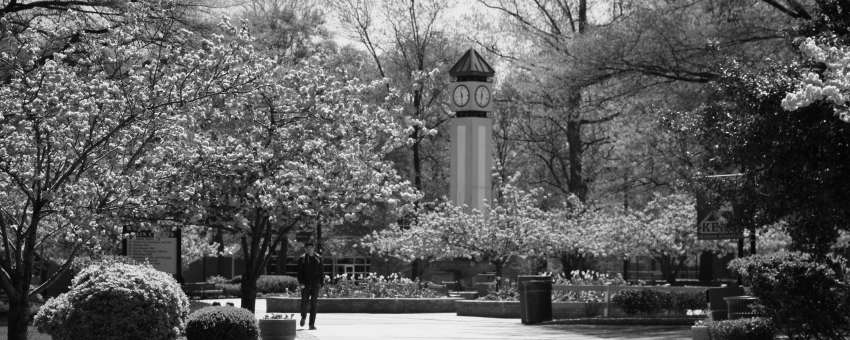 Discovering the metal art studio at Kean University, as well as Professor Jen Crupi, ignited a career for me. After graduation, I received a Puffin Foundation Grant and spent time making art in India. The support from the Kean Foundation and the Fine Arts Department allowed growth and success."
Celeste Regal, M.A. Studio
Artist/Writer/Owner, Gypsy Ghost Studio, former artist-in-residence at a college in India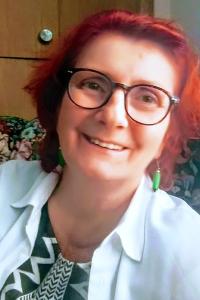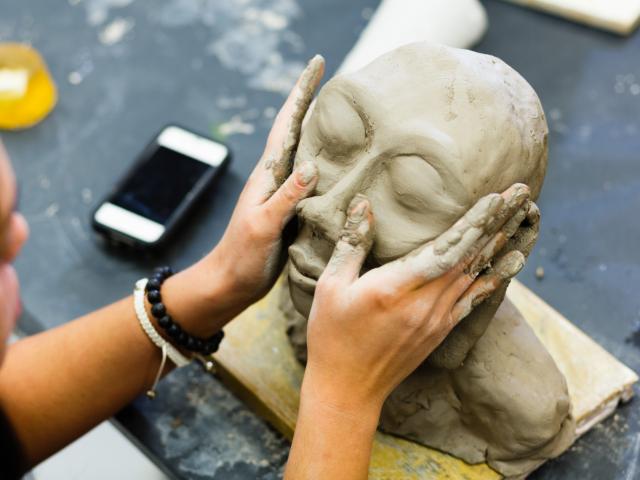 Pursue your passion
Specialization is an option in areas such as drawing, painting, printmaking, ceramics, photography, metals, jewelry, furniture, scuplture, computer art and more.
After Kean
Graduates of the master's program in fine arts find rewarding and creative work as:
Art educators
Museum educators
Professional artists or writers
Fine arts supervisors
Artisans in a variety of visual arts fields
Jewelry designers
Studio artists
Community arts coordinators
Private art school owners and instructors
College artists-in-residence
Visit Us
The best way to see all that Kean University has to offer is to visit our vibrant urban campus.
Request Info
Our admissions counselors are here to help you navigate the college application process. Learn more.
Apply Now
So much awaits you at Kean University. Your Kean journey begins now. Apply today.