John Weigele '16: Making Magic at Disney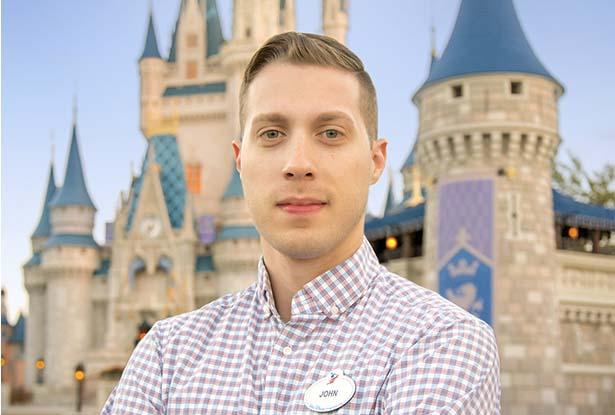 "Only a few find the way; some don't recognize it when they do; some don't ever want to."—Cheshire Cat in Lewis Carroll's Alice in Wonderland
Born out of the Victorian Era, from the pages of Lewis Carroll's landmark novel, the beguiling and ever-grinning Cheshire Cat is paradox personified.  Much like Wonderland itself, he thrives on dichotomy; using a leisurely-mischievous combination of nonsense and philosophy to simultaneously confuse and guide young Alice through her adventures.  
Kean alumnus John Weigele '16 is also navigating his way using a keen sense of ingenuity, unbridled optimism, a strong willingness to help others and a passion for what he does. When asked which Disney character is his favorite, he said emphatically, the Cheshire Cat.
When Weigele was a design student at Kean, working closely under the tutelage and collaborative guidance of Kean faculty like Professors Ed Johnston, Rose Gonnella, Denise Anderson and Chris Navetta, he dreamed of reaching new heights and exploring new realities as he delved into virtual reality (VR), going so far as to film a 360 VR video while piloting a plane he owns thousands of feet above the ground.
After graduating magna cum laude in 2016 with a BFA in graphic design from Kean's prestigious Michael Graves College, he hit the ground running; landing a spot as an interaction design intern at the award-winning experience design studio in Manhattan called Local Projects. Six months later his foray into Disney magic began as he moved down to Orlando to take on another new role, as an Innovation Producer Intern for Disney's award-winning ad agency, Yellow Shoes Creative Group. 
All the while soaking up knowledge and advice from his predecessors and immersing himself in all aspects of what goes into a design project, the talented young designer was transferred to Walt Disney Imagineering, the design and innovation arm of Walt Disney Parks & Resorts founded in 1952 that is responsible for the creation of its theme parks, resorts, attractions and cruise ships worldwide. 
His office now sits behind the scenes of Epcot where he primarily works on the park's festivals and works heavily with partners outside of WDI, like Park Event Operations, Food & Beverage, Merchandise, etc.  
A visit with Weigele in July 2017 revealed what makes this recent alumnus so special and what made his promotion to a full-time position of Associate Producer no surprise at all.
At only 24, Weigele has stretched both his mind and comfort zone more than most people do in a lifetime…perhaps part of what enticed Disney to bring him on board to be part of the team instrumental in creating everything that makes Walt Disney World a magical place. 
"We champion the story and touch on all the points that enhance that story. A variety of my projects include bringing a cohesive story and vision to life in the parks and maintaining the magic Guests' experience while visiting throughout the year. No detail is too small," said Weigele who noted that the 70,000 employees of Walt Disney World on the 220,000 acres of land are known as Cast Members. He added that there are 140 different disciplines of "Imagineers," a group that the New Jersey native likes to refer to as his tribe. Realizing the value of his workplace, Weigele sews seeds of connections every day he works, sometimes to learn something new like horticulture and sometimes to help a colleague.
But life wasn't always so magical for Weigele. When only seven years old, he lost his mom to cancer. "She instilled in me a curious side," said Weigele who recalled doing puzzles with her and whose influence on him was realized later in his life.
Raised by his dad who worked as a business salesman for his grandfather's elevator company, Weigele said he was forced to grow up at an early age. He thrived on his dad's guidance, but the time he spent alone building things and questioning the why fostered a persistence and strong problem-solving ability in him that he carries with him today and has enabled him to accomplish a sense of self-awareness that surpasses his chronological age.
But Weigele is not all about the analytical side. To this day, he still struggles between his idealistic and realistic sides and finding the right balance. The 11-year old child who used to build interactive Halloween scenes in front of his house still questions the world around him and sets concrete goals with cracks in them to leave room for opportunities. He said he likes to call that "a target future."
"Disney magic is a motivation to grow," said Weigele. "It gives me that creative courage I need to do what I do."
And he said he credits his professors at Kean for allowing him to grow.
"They saw value in me," said Weigele who was given permission to do an independent study outside his department as a student because the classes were not an exact fit for him.
During this time, he said he recalled creating mad scientist goggles and learning about who he really was. "They were all mentors to me. Kean gave me the opportunity to get a great education without a lot of debt. It gave me the tools I needed to get me to WDI," said Weigele."
When asked what he thought about Albert Einstein's passion for imagination and its importance over knowledge, Weigele said, "I value knowledge, but imagination gives you a more innovative way to apply that knowledge. If it wasn't for imagination, none of what you see would be done."       
He added, "You need to be authentic to who you are. Always be curious beyond your learning. Besides, you're not supposed to know everything because things are constantly changing."
Five years ago Weigele made a discovery. He always knew that Epcot was his mom's favorite park, but now it turned out that the Cheshire Cat had also been his mom's favorite character. Given a lanyard with the Cheshire Cat attached by his friend Evan, Weigele said, "I'm not a very spiritual person, but now she can still be close to me. It's as if she's here with me experiencing it all and that makes me smile."