Thousands Take Part in Kean's Virtual Research Days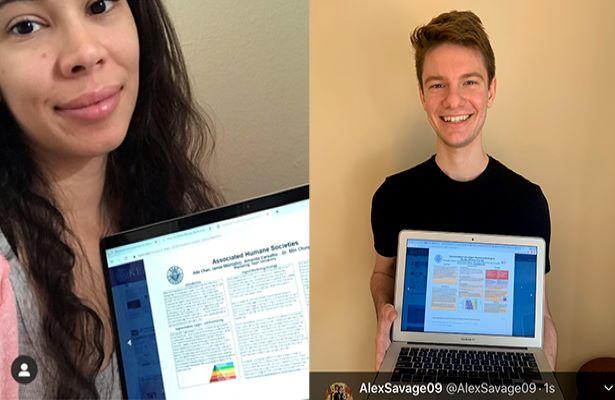 More than 1,700 Kean students shared their research in fields ranging from biology to business as the University's annual Research Days conference became a virtual experience amid the COVID-19 pandemic.
Student and faculty research teams used YouTube videos and digitized research posters, shared on the Research Days webpage, to present findings on such topics as Music's Influence on Consumer Behavior and Why Are We Not Driving Solar-Powered Electric Cars in 2020? 
Awards presentations, a special guest speaker and opening remarks were also presented on video during the virtual event, which benefited from increased online exposure.
"Student research at any level is a critical component of success, and it is an integral part of the Kean academic experience," said Kean President Dawood Farahi, Ph.D. "I am proud of the work our students are doing and pleased that a wider online audience could see the diversity of research projects presented at Research Days." 
Alex Savage, a junior marketing major, said he will use social media to share his research. He worked with a team on the project Implementation of a Digital Marketing Strategy to The Arc of Union County. 
"I will share my poster on social media, most importantly LinkedIn, as well as incorporate it into my resume for future employers to see," Savage of Colonia said. "I think Kean did an excellent job of transferring the event over to their website as an online event." 
Kean Provost and Vice President for Research and Faculty Jeffrey H. Toney, Ph.D, said that next year's Research Days 2021 will be planned as a hybrid experience, with both online and in-person components.
"Watching student videos, I could see and hear pride at the results of their hard work," Toney said. "Higher education post-COVID-19 will become a new experience for all of us. Every great challenge brings opportunities, and this is one example."
Research opportunities give students freedom to pursue questions beyond what is discussed in the classroom and experience problem-solving, teamwork and other skills. More than 500 student research posters, many created by multiple-student teams, were presented in full color online. Other students created video presentations using slides, video, voiceover and interviews. 
Kean Assistant Professor of Marketing Min-Chung Han, Ph.D., who has taken part in Research Days for three years, said the virtual event was very successful. 
"Virtual Research Days allows anyone to see the students' research work without traveling to the Kean campus. I told students they can share the webpage address with their grandparents, parents and friends who live far away. Students proudly displayed their work on social media," she said. 
One of Han's students, Jamie Montalvo, a senior psychology major, presented a poster on the topic Associated Humane Society. Her project created an internet marketing plan to bring awareness to the organization and animals in need of good homes. 
"By doing research, I learned there is a lot that goes into internet marketing and that there is always something to improve on," said Montalvo, who is from Elizabeth. She posted her project on her Instagram page, and said she will add it to her LinkedIn account for prospective employers to see.
The award for Undergraduate Researcher of the Year was presented to senior honors history major Nicole Skalenko; the Faculty Research Mentor of the Year honor went to Edward Johnston, an associate professor in the Robert Busch School of Design within Michael Graves College; and the Design Award went to Alysia Kane, a senior Graphic Design: Interactive Print and Screen major.
Tagged