Tuesday, April 23 and Wednesday, April 24
Research Days at Kean University is an annual celebration of student and faculty research and creative work. Research Days 2019 will be held on Tuesday, April 23 and Wednesday, April 24. Since its inception in 2009, the number of students presenting at Research Days has increased from 90 to this year's record-breaking 1,076.
Research Days provides students an opportunity to communicate the results of their research or creative work to a campus-wide audience and to invite discussion and comments. Presentation formats this year include posters, oral presentations, interactive exhibits, architecture exhibits, and music performance.
Paula Gaetano Adi, MFA, artist and associate professor at the Rhode Island School of Design in the Division of Experimental and Foundation Studies, will deliver this year's Research Days keynote address at 11:30 a.m. on Wednesday, April 24, in the STEM auditorium. She will talk about her works that merge art with technology through a unique mix of media, including sculpture, performance, robotic agents and interactive installations.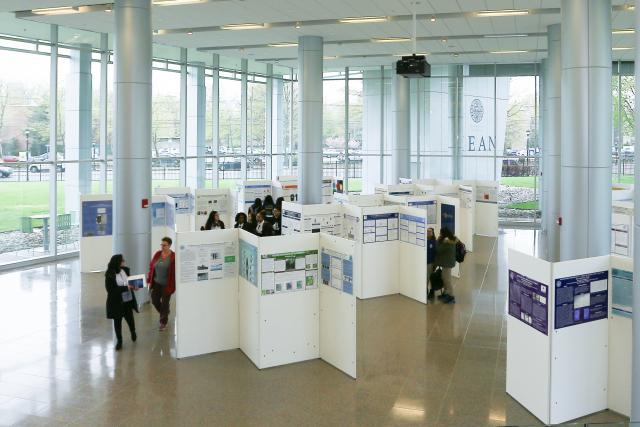 During Research Days, Kean recognizes significant research achievements through the Faculty Research Mentor of the Year and Undergraduate Student Researcher of the Year awards. This year's Faculty Research Mentor is Ching-yu Huang, Ph.D. from the School of Computer Science. The 2019 Undergraduate Student Researcher is Isabel Morais, Senior, Computer Science major.
All students, faculty and staff are welcome to attend all the events during Research Days 2019 and we hope you will make time to participate in as many as possible.
Schedule of Events for Tuesday, April 23rd
Time
Location
Event

9:00 a.m. – 3:00 p.m.

STEM

3rd Floor

Faculty Research Presentations

9:30 a.m. – 10:30 a.m.

STEM 317

Assessment Panel

The Implementation, Expansion, and Assessment of Supplemental Instruction (SI) at Kean University

9:30 a.m. – 5:30 p.m.

STEM

Various locations

Student Oral Presentations (Tuesday)

4:00 p.m. – 5:30 p.m.

STEM Atrium

Interactive Exhibit

Exploring Self-Representation & Aesthetic Presentation in New Digital Media As a Resurgence of Dada Idealism by Kelli Hayes

4:00 p.m. – 5:30 p.m.

STEM Atrium

ILSE Research Showcase

4:00 p.m. – 5:30 p.m.

STEM Atrium

Student Poster Presentations (Tuesday)

Communication Disorders and Deafness
Computer Information Systems (M.S.)
Counseling
Counseling and Supervision (Ph.D.)
Exercise Science
Holocaust and Genocide Studies
NJCSTM – graduate
Nursing
Occupational Therapy
Physical Therapy
Psy.D. – Combined School and Clinical Psychology
Public Administration
Social Work
Special Education
Speech-Language Pathology Doctorate (SLPD)
Schedule of Events for Wednesday, April 24th
Time
Location
Event

9:00 a.m. – 3:30 p.m.

STEM

Various locations

Student Oral Presentations (Wednesday)

9:00 a.m.

 

STEM Auditorium

Music Performance

The Impact of the Rock Band Performance Experiences on Quality of Life Music of Adults with Developmental and/or Physical Disabilities

9:30 a.m. – 11:00 a.m.

Downs Hall

Student Poster Presentations (Wednesday)

Accounting and Finance
Architectural Studies
Asian Studies
Athletic Training
Biology
Business
Chemistry
Communication, Media and Journalism
Community Health Education
Computer Science/Information Technology
Design
Earth Science
Economics
English Studies
Environmental and Sustainability Sciences
General Studies
Global Studies
History
Mathematical Sciences
NJCSTM – undergraduate
Psychology
Sociology
Therapeutic Recreation

9:30 a.m. – 11:00 a.m.          

Downs Hall

Architecture and Design Showcase

Interactive Exhibits

10:45 a.m.

Downs Hall

Students from Wenzhou-Kean Research Days will present live via Skype

11:15 a.m.

STEM

Auditorium

Presentation of the Faculty Research Mentor, Undergraduate Student Research, and Cover Design Awards

11:30 a.m.

STEM Auditorium

Keynote Presentation

Paula Gaetano Adi
Mestizo Robotics & Otras Especulaciones

1:30 p.m.

STEM 501

What You Should Know About Graduate School As Presented by a Graduate Student