Ibtihal Al-Makhzoomy, Ph.D.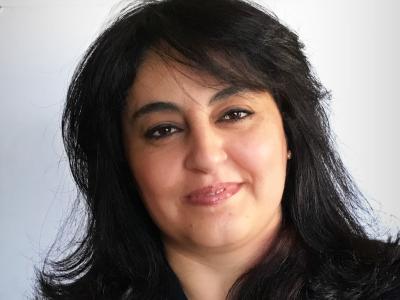 Dr. Ibtihal K. Al-Makhzoomy is an Assistant Professor at Kean University, NWGC, School of Nursing. She is a Certified Nurse Educator and an Adult & Gerontology nurse with over 20 years of higher education experience, teaching graduate and undergraduate students of various cultures, countries, and contexts. She enjoys teaching across the RN-BSN, MSN, and Ph.D. programs and coordinating the Graduate MSN and PhD Nursing Programs. She directs the HRSA Nurse Faculty Loan Program, and serves on various committees.
Dr. Al-Makhzoomy earned her BSN from the Jordan University of Science and Technology and her MSN and Ph.D. from the University of Iowa, College of Nursing. She is a member of various national and international professional nursing organizations, including the American Association of Colleges of Nursing, National League of Nursing (NLN), American Nurses Association, New Jersey State Nurses Association, Sigma Theta Tau International Honor Society for Nurses-Gamma Chapter & Lambda Iota Chapter, Jordanian Nurses Association, the Jordanian Nurses & Midwives Council among others. She serves on the NLN Licensure Exam Content Review Committee and has served on the UAE Nursing and Midwifery Council committees in the past. She is also a professional peer reviewer of two scientific journals.
Dr. Al-Makhzoomy has a strong passion for interprofessional education and research in access and equity issues related to chronic illness care, health care utilization outcomes, and health disparities among disadvantaged populations. She has founded the NWGC Center for Health Equity Education Research and Practice's initiative, and is the principle investigator of the project with local Haitian Immigrant community. This project received the 2021 Excellence in Interprofessional Education Collaboration National Award from the United States Public Health Service (USPHS) and the Interprofessional Education Collaborative (IPEC).
Selected Publications
Hayajneh, Y., Almakhzoomy, I., & Hayajneh, A. (2021). The Utility of Google Rating as a Tool for Evaluating Nursing Homes Performance. International Journal of Innovation, Creativity, and Change. 15(11), 30-40.
Al Makhzoomy, I. K. (2020). Nursing and Genomics in the COVID19 Pandemic. New Jersey Nurse, Volume 50 (4), p. 15
Al Makhzoomy, I. K. (2020). Interventions to Promote Patient Engagement and Activation for Self-Management Practices in Chronic Conditions among Racial and Ethnic Minority Populations: a Systematic Review. PROSPERO International Prospective Register of Systematic Reviews. National Institute for Health Research, https://www.crd.york.ac.uk/prospero
Spurlock, W., Almakhzoomy, I. (May 2017) Chapter 31: Unilateral Neglect. In M., Maas, J., Specht, P., Mobily, D., Schoenfelder, & A., Stineman (Eds.). Care of older persons for optimum quality of life: Nursing diagnoses, outcomes, and interventions (Vol. 3), Iowa City, Iowa University of Iowa College of Nursing Barbara and Richard Csomay Center for Gerontological Excellence. Online:  https://www.iowanursingguidelines.com/Unilateral-Neglect-p/g31.htm
Bani-issa, W., Al Yateem, N., Almakhzoomy, I., Ibrahim, A. (2016). Satisfaction of Healthcare Providers with Electronic Health Records and Perceived Barriers to Its Implementation In The United Arab Emirates, International Journal of Nursing Practice, 22(4):408-16.
Hawamdeh, S., Almakhzoomy, I., Hayajneh, Y. (2013) Screening and Correlates of Depression and HbA1C of U.A.E. Women with Diabetes. Perspectives in Psychiatric Care 29 (4): 262-268.