The Office of Residential Student Services provides housing for full-time graduate students. Our residence halls are communities where students can explore new ideas, meet other graduate students, engage in responsible
behavior, and build lifelong friendships, memories and connections while living independently.
Why Live On Campus?
The Office of Residential Student Services offers quality services that will enhance student success and foster individual growth. Some of the amenities provided in the housing charge include:
24-hour security.
Wired and wireless internet access.
24-hour computer lab.
Cable television (over 100 channels including five premium channels).
Community kitchen.
Coinless laundromat-style laundry rooms conveniently located within the building.
Self-controlled heat and air conditioning.
Free shuttle services to the Mills at Jersey Gardens (formerly Jersey Gardens Mall), Target, Walmart and area grocery stores.
Free telephone service for incoming calls and outgoing calls on campus.
Free weekly delivery of the Star-Ledger, New York Times and USA Today in building lobby.
Accessibility to University recreational facilities.
Access to different eateries on campus including an all-you-care-to-eat dining hall, a la carte food court, healthy cafe options as well as Starbucks.
Maintenance free.
Burch Hall
The Office of Residential Student Services houses graduate students on the sixth floor of Burch Hall. Burch Hall is the 10-month building and is open during winter break. We also offer housing for graduate students during the summer. Students entering the Doctoral programs often live on campus during their first summer enrolled at Kean University.
Apartment Layouts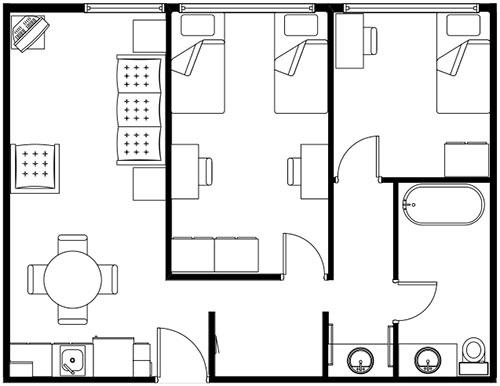 Graduate students live in single-occupancy rooms. There are still two bedrooms per apartment. A student living in a single will be in the bedroom by him/herself.
Room and Living Room Setup
Each bedroom comes furnished with a bed, wardrobe, desk and a desk chair for each occupant.
The living room area is furnished with one three-seat couch and one single-seat couch, two end tables and a TV stand.
The kitchen area is furnished with a square dining table, four chairs, a full-size refrigerator, cabinet storage space, sink area and a microwave.
A community kitchen is located on the first floor of the residence hall and consists of two stoves, a toaster oven, coffee maker, couches and a large flat-panel TV.
Apply for Graduate Housing
To learn how to apply online for graduate housing, please click here.