Freshmen & New Student Housing Selection
New this year: Future Cougars can Reserve their Housing!
The Office of Residence Life is excited to debut Housing Selection to new and incoming students! You will be able to select your residence hall and your actual room based on availability!
Housing Selection is the process for you to select your residence hall, the actual suite and room that you will live in during the upcoming academic year. Beginning in May, incoming students have paid their housing application fee can log into the housing portal and see all of the open suites and rooms that are available. 
Steps to Housing Selection: 
Submit the Fall 2023 Housing Application in KeanWISE (Kean email and password) and the $125 application fee.
Search for Roommates using the Roommate Search tool.
Log into the housing portal and access Room Selection.
Any student who applies by April 30, 2023 will be granted access to Housing Selection on May 1, 2023. Students who apply for housing after May 1 will receive access to Selection within 3 business days. 
Later this summer, you will also be able to select your meal plan for the upcoming year through the housing portal. All residential students are required to select a meal plan. The University and Gourmet Dining are able to cater to a wide variety of dietary restrictions, students with food allergies, and other medical dietary limitations. 
Future Cougars who reserve their housing early through Housing Selection will go into the Summer months set up for a seamless transition into their first semester. Once you reserve your housing and select a meal plan, you will have a concreate idea of what your total cost of attendance will be before first bill comes due!
Housing Selection will remain open through July 31, 2023. Anyone who doesn't self-select will be automatically assigned by Residence Life, based on remaining available spaces.
Roommate Search is Open!
Roommate Search is now available on the housing portal for you to search for and request your future roommates and suitemates! If you need help finding a roommate, please review the Roommate Search Guide and video tutorial to help match with your future roomies. Once Housing Selection opens in May, you'll be able to assign yourself AND your roommate group to the suite of your choice. Note: You'll only be able to search for other students who have also submitted their housing application and application fee.
---
Roommate Tips
You can only search for students who have also submitted the housing application.
All members of the group must request and accept each other. If even one person does not accept another student's request, you may run into trouble during Room Selection.
Make sure all group members have provided the same response to the Gender Inclusive Housing questions on your application. Have questions about this? Contact us!
Do not participate in Housing Selection or select a room until ALL desired members of your group have applied for housing and matched. This will ensure another student does not select the vacant space(s) in your suite. 
Communicate your building and floor preferences ahead of time to ensure everyone is on the same page.
If you are assigning members of your group other than yourself, be sure to let them know.
Get Early Access to Housing Selection!
Get ahead of the game. Committed Cougars who have already submitted their immunization records and proof of health insurance will have VIP access! The Early Access Pass grants you access to Housing Selection ahead of the general population from May 1-7, 2023. To qualify, submit your housing application, all immunization records and proof of insurance via the Student Health Services portal no later than Sunday, April 30, 2023.
Special Populations: Transfer & International/Wenzhou Kean Students
We have designated floors or wings in our residential community specifically for special populations, including incoming Transfer students, International students, and Wenzhou Kean exchange students.
Transfer wings are located in Burch Hall and Upperclassman Hall.
International students are able to select from available spaces in Cougar Hall and the Quads. These international communities include full-suites available to be reserved, as well as spaces within partially occupied suites for students who would prefer to live with an American student.
Resources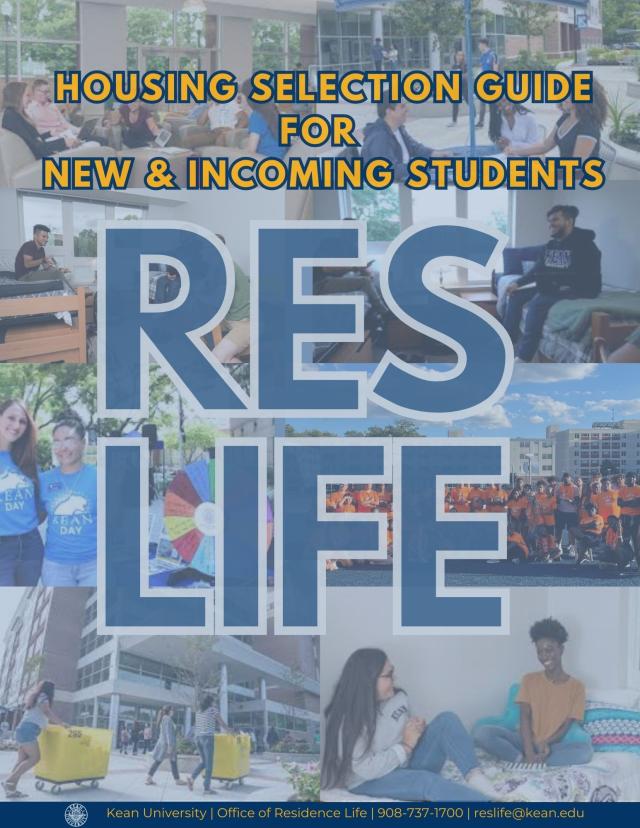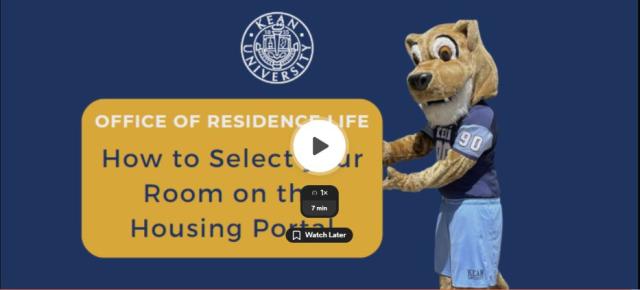 WATCH: How to select your room
What's Next?
There are several important steps you can take to ensure you are ready and able to move in for the year. Make sure you have completed the following before August 1st:
Register for classes with a full-time (12 Credits for Undergraduate & 9 for Graduate students) status
Upload immunization records AND proof of health insurance to the Student Health portal
Fulfill financial obligations