In 1944, Newark State Teachers College graduate Anne McCauley made history by joining the WAVES, the US Naval Women's Reserve.  She trained at Hunter College as a gunnery instructor and was stationed along the Gulf of Mexico.  In 2017, Kean University History Honors students are writing her history.  History Honors students have scanned and transcribed over 800 letters from Newark State Teachers College students and alumni serving in World War II now available at: www.WorldWarIIScrapbook.com. This collaborative project in the digital humanities showcases how Kean University undergraduates are making history by conducting original research and by using new technologies to share that history!
Below are just a few of the Kean History student research projects.  They each use original primary sources, many housed here at Kean, to reconstruct and share important chapters in New Jersey, America and World history. Collectively, they illustrate how you, too, can MakeHISTORY@Kean.
The BlacKeaning :Using the university's special collections as well as primary sources from local archives, students in this class worked to build an institutional history of race relations at Kean, telling the story of the dynamics of race and power at the school and on its grounds over the past 250 years.
Staring out to Sea: From 2013-2016, Abigail Perkiss, Ph.D., worked with Kean undergraduates to develop Staring out to Sea, a longitudinal oral history project documenting the relief and recovery efforts after Hurricane Sandy along New Jersey's Bayshore. 
Nancy Thompson World War II Scrapbook Project:  Students members of the Department of History Honors Program collected more than 800 letters written by former Newark State Teachers College students during World War II. Studying and transcribing the original collection of  Nancy Thompson, the Newark State Teachers College Librarian from 1914 to 1957, students have compiled the correspondence into an interactive website project.
NEH William Livingston's World: "MakeHistory@Kean:  William Livingston's World" is a three-year project to develop Kean University Department of History curriculum around the concept of a History Lab. Using untapped archival resources and facilities of Kean, Liberty Hall Museum and the Liberty Hall Academic Center, undergraduates will generate a portfolio of original historical research to be shared with a broad public through talks, exhibits, websites, lesson plans and other genres. 
NEH: Is There Such a Thing as a Just War? : This student project website was one element of a program funded by the National Endowment for the Humanities as part of its Enduring Questions Pilot Course Grant for the academic years 2010-2012. Led by principal investigator Christopher Bellitto, Ph.D.,  the program tackled the uncomfortable question "Is there such a thing as a just war?" from a global perspective and  long historical lens.
Student Internships: Students can prepare for a career in History by participating in student internships during their undergraduate education.
Kean Rocks through the Ages Exhibit: Holocaust and Genocide Studies graduate student Frank Harpster compiled an exhibit that explores the history of concerts held at Kean from the 1960's to the present. The exhibit, located in the Cougar's Den, features pieces such as ticket stubs, records, newspaper articles, etc. 
Greek Women Then and Now: Online Exhibit

 Virtual Exhibition and International Arts Festival in Athens Greece Summer 2021
Kean Art History Student Artworks & Essays Directed by Dr. Jacquelyn Tuerk-Stonberg
Joined by international professional artists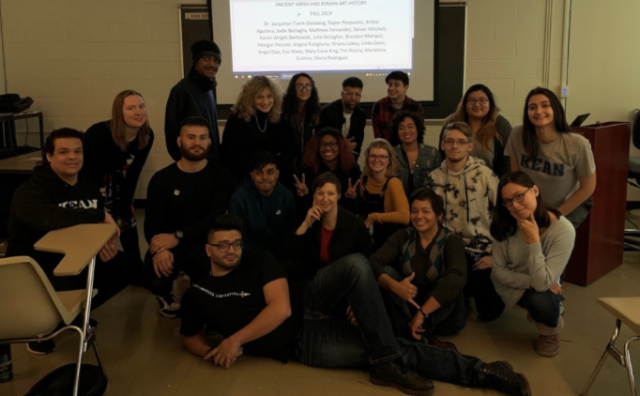 This exhibition grew out of an Art History course in Ancient Greek and Roman Art taught at Kean University by Dr. Jacquelyn Tuerk-Stonberg. Students researched and wrote essays about women in ancient Greek art and they created original artworks exploring real or mythological Greek women: their representation, identity, culture, and history.