Department of History
The new Liberty Hall Museum & Academic Center is home to History at Kean. The center offers students, scholars and visitors the chance to conduct hands-on research, using historical artifacts and documents. The facility houses the Kean University History department, the University Archives and an exhibition space for museum visitors to enjoy.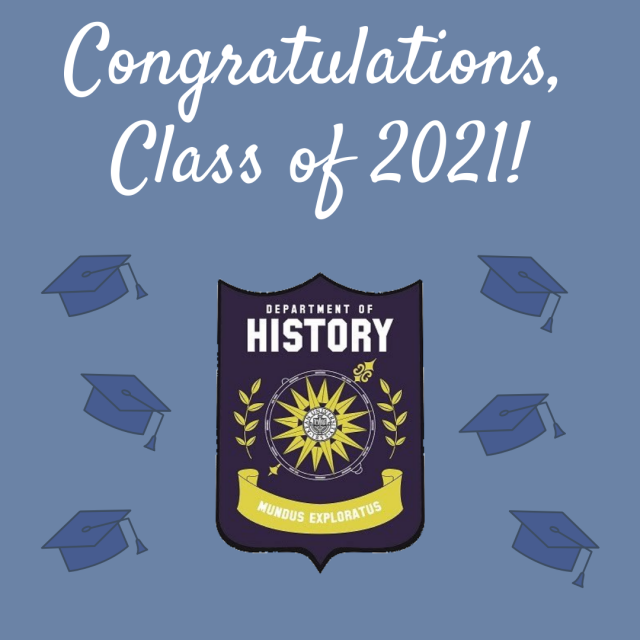 The Department of History would like to congratulate the Class of 2021 graduating in History, Art History, Asian Studies, Chinese Studies, and Jewish Studies!
Celebrate with us by viewing the slideshow below!
Class of 2021 Graduation Slideshow
Kean Student & Alumni Art Protest Exhibition
The History's Department's Dr. Jacquelyn Tuerk-Stonberg curated the timely exhibition "Kean Student and Alumni Art Protest in Memory of George Floyd" currently in the Human Rights Institute.
You can learn more about the exhibit here:
Official Statement
The College of Liberal Arts, and the Dept. of History, where the Asian Studies program, and Chinese Studies program are housed, condemn the verbal abuse, and physical attacks on Asian-Americans, the Pacific-Islanders, and in particular the women from these communities. 
We join with President Repollet in "condemning racism, xenophobia and intolerance" and urge our Kean University community "to stand together against all ugliness and hate."
HistoryTalks@Kean Community Forums
Throughout the summer and into the fall semester, the History Department has been hosting a number of virtual conversations surrounding various relevant topics. The links to all these talks can be found below:
HISTORYTalks@Kean Community Forum: Art, Race, and Protest
Conversation led and Moderated by Kean University Art History Professors Marguerite Mayhall, Lewis Kachur, and Jacquelyn Tuerk-Stonberg
HISTORYTalks@Kean Community Forum: Policing in New Jersey
Moderator:  Dr. Abby Perkiss
Panelists:  Dr. Frank Argote-Freyre; Acting State Comptroller Kevin Walsh; Reverend Dr. Charles F. Boyer
HISTORYTalks@Kean Community Forum:  Voter Suppression in America 
Hosted by: Department of History and the Program in Political Science
Moderator:  
Dr. Gilbert Kahn, Professor,  Political Science, Kean University
Panelists:  
History:  Dr. Abigail Perkiss, Kean University
Legislative Perspective:  Assemblywoman Annette Quijano (D), New Jersey Legislative District 20, Majority Conference Leader
Legal Context:  Jyoti Jasrasaria, Associate, Perkins Coie; Sarah Mahmood, Associate, Perkins Coie
Grassroots Activism:  Maria Slabaugh, MACTA; Winn Khuong, Action Together New Jersey
Student Call to Action:  Chelsea S. Leon, Kean University; Chevon Williams, Kean University
HISTORYTalks@Kean Community Forum: "A Conversation with NJ Attorney General Gurbir Grewal"
Introduction:  Kean University President Lamont Repollet
Moderator: Department of History Professor Frank Argote-Freyre
HISTORYTalks@Kean Community Forum:"History, Memory, and Monuments" 
A panel discussion touching on the following:
Professor Frank Argote-Freyre, Columbus Day Commemoration and Monuments
Professor Brian Regal, Confederate Monuments
Professor Abigail Perkiss, Vietnam War Memorial
Professor Lewis Kachur, Contemporary Monuments, Race, and Protest
A Conversation on History, Slavery, and Liberty Hall: Recovering Lost Voices
Moderator: Dr. Elizabeth Hyde, Department of History, Kean University
Speaker: Dr. C. Brid Nicholson, Department of History, Kean University
Q & A: Dr. Jonathan Mercantini, Acting Dean of the College of Liberal Arts
A Degree in History
will give you the analytical, research, writing, and critical thinking skills prized by a wide range of employers and careers. Or, consider a Minor in History to augment your major field (just 18 credits).
To Learn more about careers in history, click here!
Email  KUHIST@Kean.edu to join our mailing list.
Join the conversation. Follow the department on social media. 

About
The Department of History is one of Kean University's oldest and most productive programs of study and has been part of the instructional component of the institution since its inception in 1855.
The mission of the Department of History is to develop emerging scholars capable of thinking critically, communicating across cultures, researching, analyzing, writing and reasoning within the perspective of historical literacy and done within a global context, skills in high demand to employers in a wide range of industries.
Every student studies the foundations, which include insights into cultures and problems of civilizations and an understanding of human groupings - countries, religions, and civilizations that have generated the emotions, symbols and values of contemporary life. Students also learn about the complex causes of the rise and fall of societies, as well as the underlying realities of leadership, social class and power.
History graduates are capable of producing quality research, and as teacher/scholars encourage and inspire tolerance and mutual understanding as responsible and responsive members of a civic community.
The bachelor's degree program in history is intellectually rigorous. It requires a considerable amount of reading, writing and research. It is designed to give students a wide-ranging knowledge of the human past, as well as the practical and philosophical skills of a scholar. Students learn to work with primary and secondary sources and to analyze them critically. We also expect students to become part of the life of the department. This means meeting regularly with professors and an advisor and attending student workshops and special events. In the end, this helps students learn to think and behave like an historian.
Program Options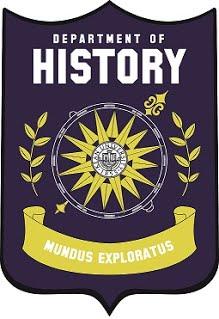 Options for Interdisciplinary Studies
Learn more about the Department of History, including course offerings, program options and faculty by clicking here.
For a complete list of course descriptions and degree requirements, click here.