CONGRATULATIONS ON YOUR ADMISSION TO KEAN UNIVERSITY! 

You're only a few steps away from starting your journey at Kean Ocean, hop on board!
STEP 1: Read your admission email and respond to your offer of admission!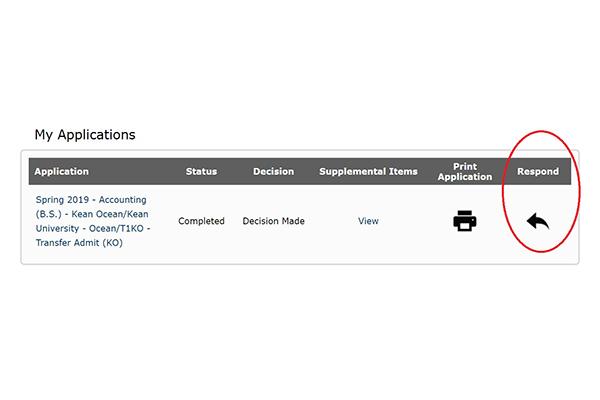 Your acceptance email contains information on how to access KeanWISE, our student portal, where you will be able to view your program records, financial aid, and other important information related to being a Kean student. 
The next step is to respond to our offer of admission. Please log back into your application and click 'Applications' followed by 'Respond' to inform Kean of your enrollment intentions.
STEP 2: Schedule your advisement appointment using AdvisorTrac.
You are required to meet with an academic advisor prior to registering for courses each semester. Please note, starting with your second semester, a faculty advisement hold will be on your account until you meet with your academic advisor. As a newly admitted student, you can use AdvisorTrac to review the available registration and advisement dates, as well as review instructions on how to make an appointment. (Please be advised that classes fill quickly; you are encouraged to make your appointment as soon as possible).
Use these steps to access AdvisorTrac:
Enter your Kean Google USERNAME and your BIRTHDATE (MMDDYY).
Your username is included in your admissions email.
Click on SEARCH AVAILABILITY
Under Center, select KEAN OCEAN REGISTRATION
Under Consultant, select your MAJOR PROGRAM
Click SEARCH.
Select an APPOINTMENT TIME on the date of your choice. Available dates are included in your admissions information.
Select the Reason of ACADEMIC ADVISEMENT and enter your PHONE NUMBER.
Click SAVE.
EDUCATION STUDENTS: Please make two appointments for advisement. The first with your Education adviser, either Elementary Education or Special Education, and the second with the major you wish to pursue as your second area of study or content area. Not certain what areas are available? Call (732) 255-0356 to know what options are available to you.
STEP 3: Print out your program evaluation (Degree Audit) from KeanWISE to bring to your advisement appointment.
Your advisor will need to see this evaluation to make sure you are selecting courses aimed to keep you on track to graduation! It will also help to identify any areas of concern with transfer credit. Remember that when you originally applied, some classes may have still been in progress. Be sure to update us with your official transcript if you have recently completed classes and/or graduated from your previous institution!
Check in for your appointment just outside the Kean Ocean Administrative Office, GATE 103. There you will be directed to your academic adviser and given instructions what to do next. 
Any questions? Call the Kean Ocean Administrative Office at (732) 255-0356 to speak with Transfer Admission, Registration, Financial Aid or Student Accounting representatives!
To print your program evaluation, follow these steps:
Log onto KeanWISE using your login credentials included in your acceptance email. Once logged in, you may be prompted to change your password.
Navigate to the Student Menu.
Click on 'Program Evaluation' under the 'Academic Profile' section.
Click on 'Transfer Equivalency' under the 'Academic Profile section to view a course-by-course equivalency report.
STEP 4: On the day of your registration appointment, please check in at the Kean Ocean Office, Gateway Building, Room 103.
Please show up 15 minutes before your scheduled advisement appointment to check in and be directed to where you will meet with your advisor.  Once finished with your advisor, you will go to a designated computer lab/classroom where you will receive assistance in using KeanWISE to register for your classes. If you are registering outside of the scheduled new student registration days, once you have met with your advisor, you are free to register on your own at any time using KeanWISE.  For assistance, please come to Gateway Building, Room 103 during our regular business hours.  When classes are in session office hours are:  M, W-F 8:30am-5pm and T 8:30am-7pm (Fall/Spring semesters only) & M-Th 8:15am-5:30pm (Summer hours).
If you have any questions regarding this information, please email us at koadmission@kean.edu.
Have your plans changed?
Should you no longer be interested in attending Kean University and would like to decline this offer of admission, please log back into your application, and under 'Applications' click 'Respond'. Please choose the option that is applicable to your enrollment intentions.

Please note:  Make sure to review the billing and payment information and deadlines on your KeanWISE account when you register. Your financial aid allocation, final payment or establishment of a payment plan must be made by the posted deadline, or your schedule may be forfeited. Please review the following link regarding the Financial Obligation Agreement, payment deadlines and forfeiture policies.
Additional Steps
It is important to note that admission to Kean University/Kean Ocean is contingent upon successful completion of all courses currently in progress. The University reserves the right to rescind or change the decision should subsequent information provided not be in accordance with the University's admission policies.
Immunization Records
Immunization records are required for all students. Students now have the access to upload immunization record documentation directly. For information on how to submit immunization records please click here. Records must be submitted through the student portal. Please adhere to the deadlines for records submission to ensure there is no delay in registering.
For questions or assistance, contact Student Health Services at 908-737-4880.
Financial Aid
If you have not already done so, complete the FAFSA and ensure you identify Kean University as a recipient. Our school code is 002622. More information about financial aid can be found through the Office of Financial Aid. If you have not already done so, please arrange to submit one of the following documents:
A copy of your U.S. High School transcript or U.S. High School diploma, showing the date of graduation or a foreign high school transcript evaluated by an NACES agency (www.naces.org) showing that you have earned the equivalent to a U.S. high school diploma.
A G.E.D. verification or other document which is the equivalent of a high school diploma.
An official transcript from a New Jersey PUBLIC institution showing the successful completion of an Associate's Degree. If your college transcript does NOT show the degree posted, it cannot be used to fulfill this requirement.