Center for International Studies
Kean provides numerous opportunities for our students to study overseas, including at our English-speaking campus in China. We also welcome students and scholars from around the world to study at our campuses in New Jersey. Are you ready to study in China next semester?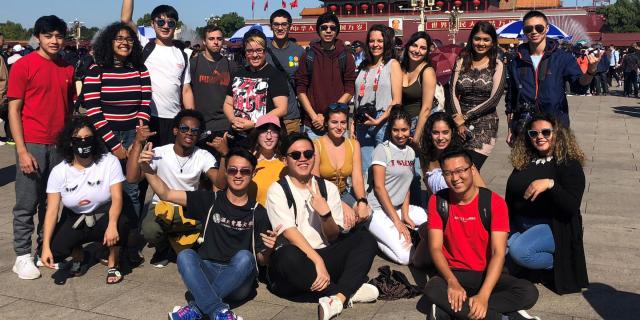 About
At Kean, we believe in providing a world-class education to our students. That means giving you the chance to see the world and learn from different perspectives so that you're prepared to compete in the global marketplace after graduation.
Study abroad is the study that takes place outside of the country in which you are enrolled as a student. It may include participating in courses, internships, research, service learning, and other learning activities.
Students at Kean University have three main options for studying abroad: our WKU Exchange, one of our many Spring or Summer Travelearns, or participating in a program provider trip. Students can choose the experience that best suits their interests, ranging from studying abroad for a full academic year, semester, or 7-10 days. 
Our Office of International Student Services takes pride in welcoming a diverse group of students and scholars from around the world to Kean U.S.A. each year. We stand ready to help with immigration and visa regulations and other support to help ensure you have a positive and meaningful experience.
WKU Exchange
Kean University is the only American public university to offer a full campus in China. Students from Kean USA and institutions across the country can study in the fully English-speaking environment alongside students from across China.
As the only public American university with a full campus in China, we are uniquely poised to deliver on that promise. You can study at Wenzhou-Kean University for the same price as studying at one of our campuses in the United States.
Learn more about this unique opportunity and spend a semester in China!
Kean Travelearns
Short term, faculty led study abroad programs. These allow students to continue working toward their degree while completing a short-term study abroad program for 7-10 days . 
Travelearns tend to focus on a specific topic and may include lectures, internships, research and excursions. Travelearns at Kean University primarily travel abroad, but occasionally occur domestically. 
Program Provider Opportunities
PROGRAM PROVIDER
Kean University works with outside companies (program providers) to assist in going for longer lengths of time, including a Winter term, Summer term, Semester, or an Academic year.
This type of study abroad program is more "flexible" as it allows students to select their location and duration of study. 
More information
Apply now
Inbound International Students
Kean University takes pride in welcoming international students from all over the globe who are pursuing their F1 visa studies. 
In order to get more information on the office processes, please visit our International Students and Scholars page. 
You can also visit our FAQ page to have further questions answered. 
If you have immediate questions that are not answered on our website, please contact our Center for International Studies Office at cis@kean.edu .