Congratulations to Dr. Claire Mulry: Scholar, Mentor, Community Advocate and Educator
Dr. Claire Mulry has been chosen to receive the Roster of Fellows Award, which recognizes occupational therapist members of AOTA who through their knowledge, expertise, leadership, advocacy, and/or guidance have made a significant contribution over time to the profession with a measured impact on consumers of occupational therapy services and/or members of the Association.
Additionally, Dr. Mulry received an $8000.00 grant from NJ AARP for her Thriving in Community Program position. This program allowed (Fieldwork 1) students under licensed occupational therapists' supervision to deliver 8 weeks of wellness programming in 7 affordable housing buildings for older adults in 5 New Jersey counties. The wellness programming included fall prevention education and fall screens, AARP's Home Fit program in a group setting with supplemental individual apartment home assessments with safety and equipment recommendations, and 4 weeks of Let's Go Community Mobility Programming. This programming targeted to each individual building's residents' needs and desires. The supplemental wellness programming included exercise groups, healthy meal planning, chair yoga, health education/ activity bingo, computer education, pain management, hand strengthening, vision evaluations, and story-telling/writing classes.
Finally, you can find Dr. Mulry's quick tips on Melissa Clark's Aging Insights show!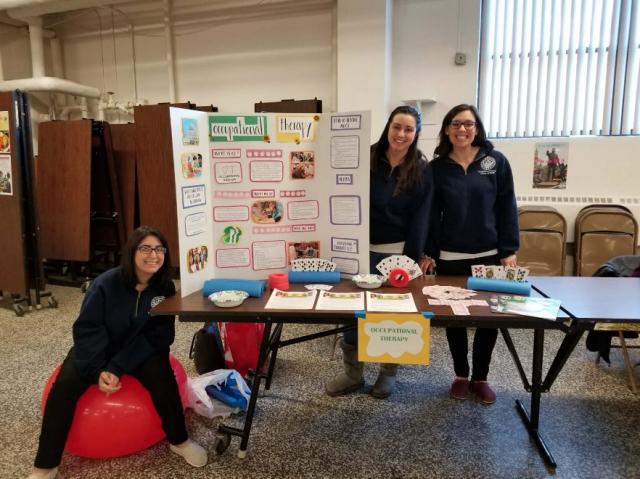 Kean University's Department of Occupational Therapy students, Alivia Nufrio (left), Nicole Sociedade (middle), and Valerie Hengemuhle (right), chose to carry out their advocacy project with the Girl Scout Community in hopes of providing interest to potentially new generations of occupational therapists. On March 4, 2018, Valerie, Alivia, and Nicole attended the Girl Scouts Group Career Fair in South Plainfield from 5:00pm-7:00pm. There, they presented to various Girl Scout Troops, aged 11 to 19 years, on what Occupational Therapy is, what we do, how to become an OT, the common myths associated with the profession, and even the commonalities between girl scouts and occupational therapists to help facilitate interest. In doing so, they provided a poster presentation, filled with pictures and useful information about the profession, along with different props to perform demonstrations on adapting the environment for various client conditions, and activities using stereognosis to highlight the sense of touch. Girl scouts, troop leaders, and parents were educated on the profession as a whole as well as the plethora of opportunities the OT field can provide for both clients and therapists. It proved to be a day of fun and learning for both our OT students and the Girl Scouts.
ACOTE Accreditation
We are proud to announce that the Accreditation Council of Occupational Therapy Education (ACOTE) has awarded the Occupational Therapy Program at Kean University with a 10 year period of accreditation for meeting the standards of the Master's Degree Level Educational Program for the Occupational Therapist. The 10 year period of accreditation is the highest level of achievement possible to attain, ensuring the quality education this program provides for future entry level occupational therapists. Only 30% of programs earn this level of accreditation. Thank you to all who worked diligently throughout this process, thus making accreditation a success!
Click here for the ACOTE 2014 Official Findings report.
Correspondence should be directed to: ACOTE, c/o Accreditation Department, American Occupational Therapy Association (AOTA), 6116 Executive Boulevard, Suite 200, North Bethesda, MD 20852-4929. Their phone number is (301) 652-AOTA. Website: www.acoteonline.org.
Kean University Occupational Therapy Community Cares Clinic
The Department of Occupational Therapy is proud to announce that the occupational therapy clinic has been operating since Fall 2014. This state of the art facility provides occupational therapy for individuals from the community. Clients are from across the lifespan with a variety of needs, including children and youth, rehabilitation and disability, mental health, productive aging, and health and wellness services. Moreover, occupational therapy students utilize the clinic to practice hands-on skills being taught in the classroom, to create splints, lead Community Partnership & Service programming with clients, and as a possible fieldwork placement. Kean University Occupational Therapy is the only program in the tri-state to have its very own onsite clinic.  For more information on the Kean University Occupational Therapy Community Cares Clinic, please click here. 
April 2017
Congratulations to Kean OT's 3 Minute Thesis Winners!
The OT department swept the Kean University 3-Minute Thesis Competition on April 25th! Eric Ginzburg took home the People's Choice award, Monica Franklin was runner-up, and Teressa Cali won with her presentation on health perceptions of older adults in the community. Congratulations to all! Go OT!
2017 AOTA Annual Conference and Centennial Celebration
From Thursday March 30th through Sunday April 2nd, Kean OT students, faculty, and alumni came together to attend the 2017 American Occupational Therapy Association (AOTA) national conference and to celebrate the 100th year of OT as a profession. Check out the pictures below of the Kean OT family enjoying, learning, and presenting at this year's conference!
Celebrating 100 years of OT at the Kean Alumni Reception with past and current students.
Dr. Knis-Matthews with Kean Alumni Danielle, Marlee, and Katie at poster resentations.
1st and 2nd year students excitedly awaiting the start of the opening ceremony. Time to celebrate!
Dr. Jennifer Gardner and Kean alumni presenting their research on the sensory preferences of wellness center members. 
Geraldine Pagaoa, Thais Petrocelli, Dr. Knis-Matthews and 2nd year students present on the clinic's academic fieldwork program.
Dr. Claire Mulry and students Mark and Alex presenting their research on community mobility for older adults.
First year students Chrissy, Olivia, and Feby meeting Michael Iwama, the creator of the Kawa Model!
Dr. Mariann Moran presenting research on comparing a goniometer with an app on a smart phone. 
Thais Petrocelli, Academic Fieldwork Coordinator presenting on
"Starting a Successful Fieldwork Program in an Academic Community-Based Clinical Setting"
 
January 2017
Kean OT Student in the Spotlight!
We are excited to share that one of our Kean OT students is on the cover of the winter edition of Hippotherapy magazine! Aly completed one of her level II fieldwork experiences at a facility that provides occupational therapy utilizing hippotherapy as a treatment strategy. The article inside the magazine highlights the collaboration between OT, speech therapy, and social work. Way to go, Aly! 
 
November 2016
Older Adult Prom
On Saturday, October 29th, the Kean University Student Occupational Therapy Association (SOTA) held their first annual Older Adult Prom. It was a fun filled day of adaptive games, crafts, adaptive equipment trivia, and of course food and dancing! SOTA was so excited to collaborate with community partners to run this event and looks forward to hosting another prom next year!
Program Information Session
An information session for prospective students will be held on Monday, November 14, 2016 at 5:00PM on Kean University's East Campus (215 North Avenue in Hillside, NJ). Room location TBA. 
 
October 2016
Kean OT Students and NY Giants Unite to Fundraise!
On Monday, October 18th, Kean OT students joined NY Giants players in volunteering at Intensive Therapeutics' 7th Annual Monday Night Bowling fundraiser. The event was hosted by Giants Cornerback Dominique Rodgers-Cromartie and raised money for the organization and its scholarships for families to receive their services. Kean students and faculty came together to support Intensive Therapeutics, a 501 (c) (3), non-profit, charitable organization founded and directed by Kean University alumnus, Scott Mathews. Intensive Therapeutics provides group and individual occupational therapy services to children with autism, hemiplegia, and other special needs. The organization was established in 2005 to address the needs of families who wanted individualized services by licensed professionals in a non-medical environment. Check out pictures of Kean students at the event!
 
September 2016
SOTA Advocates for OT and Walks for BIANJ
On Saturday, September 24th members of Kean's Student Occupational Therapy Association (SOTA) attended the Brain Injury Alliance of New Jersey's (BIANJ) Walk for Brain Injury Awareness at Saddle River County Park in Paramus. SOTA members spent the morning speaking about the value of OT and how it can impact individuals with brain injury. They then joined the rest of the community in a walk to spread awareness for brain injury. SOTA raised nearly $1000 for this walk, with the proceeds benefiting individuals and families affected by brain injury. Go SOTA!
 
May 2016
Clinic's Paint Possibilities Class Featured in Union News Daily
On April 26th, the OT clinic hosted an adaptive painting class for individuals living with a brain injury. The class was created by our OT students and modeled after the popular Paint Nite and Sip and Paint classes. Paint Possibilities was taught by a graduate Fine Arts student while our OT students provided a variety of verbal, visual, auditory, and physical adaptations for participants as needed. Thank you to Elana Knopp for writing such a wonderful article in Union News Daily. Check it out here: http://unionnewsdaily.com/uncategorized/24217
 
April 2016
SOTA Hosts BFF Breakfast for Families of Children with Autism
On Saturday April 23rd, Kean OT students and members of our Student Occupational Therapy Association (SOTA) participated in the annual Breakfast for Families event. Families living with loved ones with Autism were invited to have breakfast and hear a lecture by our wonderful guest speaker, Elizabeth Duffy, OTR. The children participated in fun games and activities facilitated by our student volunteers. What a way to celebrate OT month!
7th Annual Kean University Young Athletes Day!
On Sunday, April 17th, the Department of Occupational Therapy hosted the 7th Annual Young Athletes Event at Harwood Arena on behalf of Special Olympics New Jersey. Over 50 families and young athletes enjoyed the sport and play program with the help of 175 Kean student volunteers! Check out some photos below of some athletes enjoying the day and our OT student volunteers. These photos were captured by our Kean student photographer, Melissa Mercado. 
For more pictures, see this link, courtesy of Special Olympics NJ.
 
Community Partnerships & Service Learning: Spring 2016 Courses
Every spring semester, our first-year OT students participate in a program called Community Partnerships and Service Learning in which they are tasked with implementing occupational therapy interventions for community partners under the supervision of licensed and/or credential professionals. Several courses for various populations are being offered this spring. Check out the flyer below or click here for information on each class.