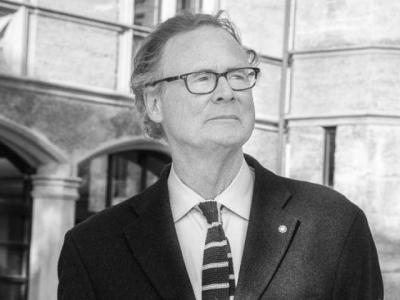 David Mohney is Dean of the Michael Graves College at Kean University and Wenzhou-Kean University.  Previously he served as Dean and Professor of Architecture at the College of Design at the University of Kentucky for 14 years. He has also taught at the Institute for Architecture and Urban Studies (IAUS) in New York City, the Graduate School of Design at Harvard (GSD), and the Southern California Institute of Architecture in Los Angeles (SCI-Arc).  He has degrees from Cranbrook School in Michigan, Harvard College and Princeton University's School of Architecture.
At the University of Kentucky, he led a major effort to engage communities around the Commonwealth in real design projects, organizing centers for architecture and design in both Lexington and Louisville.  As dean, he initiated a graduate program in Historic Preservation and organized a team that successfully added the Bluegrass landscape of Kentucky to the World Monument Fund's Watch List. At Kean, Mohney inaugurated the new professional program in Architecture and has been actively involved in the campus master planning at WKU.
He is the author of three books: Seaside, Making a Town in America (with Keller Easterling); The Houses of Philip Johnson (with Stover Jenkins), and The Louisville Architecture Guide (with Greg Luhan and Dennis Domer). Seaside was awarded a Citation for Excellence in International Book Publishing by the American Institute of Architects (AIA). He is presently working on a book on the origins of Postmodernism in American architecture in the 1960s and 1970s, and continues to research recent contemporary design activity in Rotterdam, with support from the Graham Foundation and the Sutherland Foundation.
As a practicing architect, Mohney has designed projects for clients such as SPY Magazine in New York City, the Lawrenceville School in New Jersey, and the Kentucky Native Café in Lexington. He led the design charrette for Hermitage Farm in Louisville, which preserved the historic equine character of this landmark farm while creating environmentally sensitive interventions.
Mohney was the Founding Secretary of the Curry Stone Design Prize, a global award for design ideas that promote a better world. Among numerous service activities, he has served on both the Frank Lloyd Wright Foundation Board of Directors, and the Frank Lloyd Wright School of Architecture Board of Governors.  He was elected to the College of Fellows of the American Institute of Architects in 2014.