Services are available to all students enrolled in classes for the current or upcoming semester.
For Summer and Fall 2021, all services are still available, either in person or via telemedicine.  Our providers are looking forward to caring for and welcoming you back to campus.  For the protection of everyone, mask are required for all visits to Student Health Services.   
Primary Care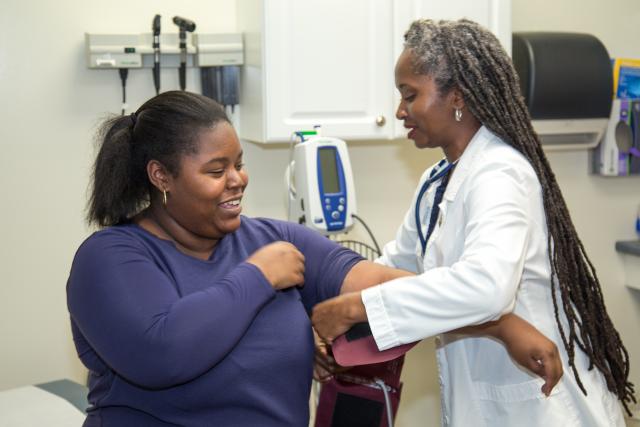 Students should make a Primary Care appointment for general medical concerns. Some of the conditions that can be treated in Student Health Services include (but are not limited to):
Cold and flu.
Cough.
Sore throat.
Urinary tract infection.
Pregnancy tests.
Strep tests.
Abdominal pain.
Injuries.
Rashes.
Allergies.
---
Gynecology
We encourage students to contact us with questions or concerns regarding your sexual health. You can make a GYN appointment even if you have not yet begun sexual activity. Bring your insurance card to your appointment for any lab testing that might be recommended.
Appointments can be made for:
Routine breast and pelvic exams.
Pap tests.
STI and HIV testing.
GYN complaints/problems.
Birth control.
---
STI Testing 
This is for our students who request testing for sexually transmitted infections (STIs). Talk with your provider about which tests are right for you. Most testing can be done with just a urine sample, so be sure not to go to the bathroom at least two hours before your appointment time. Students may also get HIV testing done during this appointment. Bring your insurance card to your appointment. Talk to your provider if you have any concerns regarding laboratory testing and privacy. Select STI Screening in Pyramed to schedule this appointment type.
---
HIV Testing and PrEP for HIV Prevention
We offer confidential HIV testing for all students. 
HIV is transmitted through the exchange of blood and body fluids. It is recommended that high-risk individuals get tested at least once a year. High-risk individuals are those who have multiple sex partners, have unprotected sex and/or use intravenous drugs.
Pre-exposure Prophylaxis (PrEP) is the latest addition to effective HIV prevention strategies offered at Student Health Services.  PrEP is a one pill combination of two antiviral medications which is taken once daily.  PrEP should be considered for any individual engaging in high risk behaviors for HIV.  Students can discuss, with any of our providers, about whether they would benefit from PrEP.  We also work with the PrEP counselors at Trinitas HIV Early Intervention program for those students who need financial assistance with PrEP. 
Free HIV testing with Iris House
Periodically throughout the year we partner with Iris House of Plainfield to offer Free HIV testing days.  Due to the COVID-19 pandemic and many students being remote, we will not schedule these clinics for Spring 2021.  However you can schedule an appointment with Iris House.  You can reach them on the web at www.irishouse.org or follow them on Instagram @irishouse_nj
---
LGBTQ+ Services
The staff at Student Health Services is sensitive and knowledgeable about LGBTQ+ students' medical issues. Students will receive appropriate screening, literature, treatment and/or referrals for specific problems. We strive to offer an environment that encourages students to seek health care in an atmosphere that is inclusive and supportive of diversity in the areas of sexual orientation and gender identity/expression. 
---
Nutrition Appointment
Dr. Jacquelyn Leung is certified nutrition and wellness counselors. She offers one-on-one counseling with students about healthier lifestyle choice, especially in regard to nutrition and exercise. Nutrition appointments can not be self-scheduled. To be seen for nutrition concerns, either make a primary care appointment for a wellness check and be referred for a nutrition appointment or call the office and ask to speak to Dr. Leung. Gourmet dining has a Registered Dietitian, Karly O'Brien, who is available to meet with students one-on-one or with groups. For more information regarding the dietitian, go to http://www.keandining.com/15844-2/.  
---
Physicals for Academic Purposes
Students who need medical clearance for anything related to their academic program, such as program requirements, internship, study abroad, Kean childcare center, volunteer work or the like, may request a physical from Student Health Services. Most programs will have a form that the provider will need to fill out and sign, so please bring that with you to the appointment. Fill out any sections that pertain to you and sign if required. Student Health Services does not administer any immunizations. If immunizations are necessary for the physical, please bring a copy of your most recent immunization record. You may be referred to a local clinic to receive required immunizations if they are not up-to-date.
Students can also request tuberculosis testing, also called a PPD or Mantoux test or QuantiFERON Gold. 
---
Lactation  Rooms on Campus
Kean University recognizes the importance of breastfeeding and the health benefits to both mother and child.  As such, Kean University has dedicated a clean, private, and comfortable location for women who wish to express breast milk on both the Union and East campuses. These lactation rooms are located in close proximity to restrooms and provide a comfortable chair with a table arm.  The lactation rooms are secure and require a key for entry, and are accessible to all Kean University students. 
Please note that the University does not provide refrigeration for expressed milk or a place to keep storage equipment.  Students are encouraged to bring a cooler bag for proper storage of expressed milk. 
For more information about the University's lactation rooms, contact Student Health Services at 908-737-4880.  
---
Medical Absences
There are two types of Medical Absences. Read the following and decide which is best for you and your circumstances.
Medical Leave of Absence
If a student will be absent for two (2) weeks or longer, a medical leave of absence is suggested. In this case, the student will be withdrawn (W) from the current semester.
You must be attending classes full-time or part-time during the fall or spring semesters only. No Medical Leaves are available during the summer. The deadline to submit the request with documentation is two weeks prior to the end of the semester. 
To request a leave of absence, the student must sign onto the Pyramed Health Portal, kean.studenthealthportal.com, and submit a secure message to a Health Services clinician to initiate this request. A medical authorization from the student's personal physician or medical care provider stating reason for leave can be sent to Health Services via our secure fax, (908) 737-4894. Upon approval, copies are sent to the Registrar, Financial Aid, EOC and Residential Student Services offices, if applicable.
Medical Leaves of Absence are granted for medical issues only. If your diagnosis is mental health-related, requests should be made with the Counseling Center. 
Short-term Absence Due to Medical Reasons
If a student will be absent from class for five consecutive days or more (but less than two weeks) due to medical reasons, the student may supply Health Services with the following information:
Documentation from a medical provider stating the reason for absence, including the medical diagnosis.
The student must sign onto the Pyramed Health Portal, kean.studenthealthportal.com, and submit a secure message to a Health Services clinician to initiate this request. Medical documentation from the student's personal physician or medical care provider stating the reason for short-term absence, including the dates of absence, can be sent to Health Services via our secure fax, (908) 737-4894.
Once documentation is received, Health Services will notify the student's instructors of the absence. This should not be a substitute for student communication with his or her instructors.