Here at Career Services, our ultimate goal is equip you with the tools and resources to be career ready. This includes helping you with establshing and maintianing a quality LinkedIn profile. Not familiar with the tool? Let us tell you more.

Over the last 20 years, LinkedIn has become an industry standard job search and professional development tool. To date, LinkedIn has over 900 million members in 200 countries and regions worldwide, with 52 million people using the tool to search for jobs each week, 101 job applications being submitted every second and eight people being hired through LinkedIn each minute! In addition, more than 58 million companies are listed on LinkedIn today with nearly 3 million posting daily and 44% of hiring managers using skills data from LinkedIn to fill the roles they are hiring for.
So needless to say, adding LinkedIn to your repertoire of professional development and job search tools will connect you to a world of opportunity and is key to your long term career success. But it doesn't stop there; LinkedIn can help supplement your in-class learning, enhance your career readiness skills and so much more.
Want to learn more about how you can best leverage LinkedIn? Please review all of our related resources below or connect with a member of our Career Services team by visiting CAS 201 or emaling us at career@kean.edu. Don't forget to follow Career Services on LinkedIn too and stay up to date on all of our latest opportunities!
---
Check Out Our Tips for Building the Best LinkedIn Profile
Having a well-built and ever developing LinkedIn Profile is great, but where is the best place to start? Here's a step-by-step guide to making sure you're building the best LinkedIn profile you can that's reflective of your personal brand, past experience, skills and abilities. Once you're done building your profile, don't forget to explore LinkedIn Learning's various course offerings so you can continually add certifications to your profile and highlight your ever-developing skill set. 
---
Check Out Our Recommended LinkedIn Learning Courses
Having a well-built and ever developing LinkedIn Profile is great, but continuing to develop your skill set and acquiring certifications to prove it is even better! Here's a list of FREE, self-guided skill building courses available via LinkedIn to help further enhance your career readiness. As you complete these courses, add new skills and certifications to your budding LinkedIn Profile, it will sure help you stand out to hiring managers seeking top talent for the roles they are trying to fill.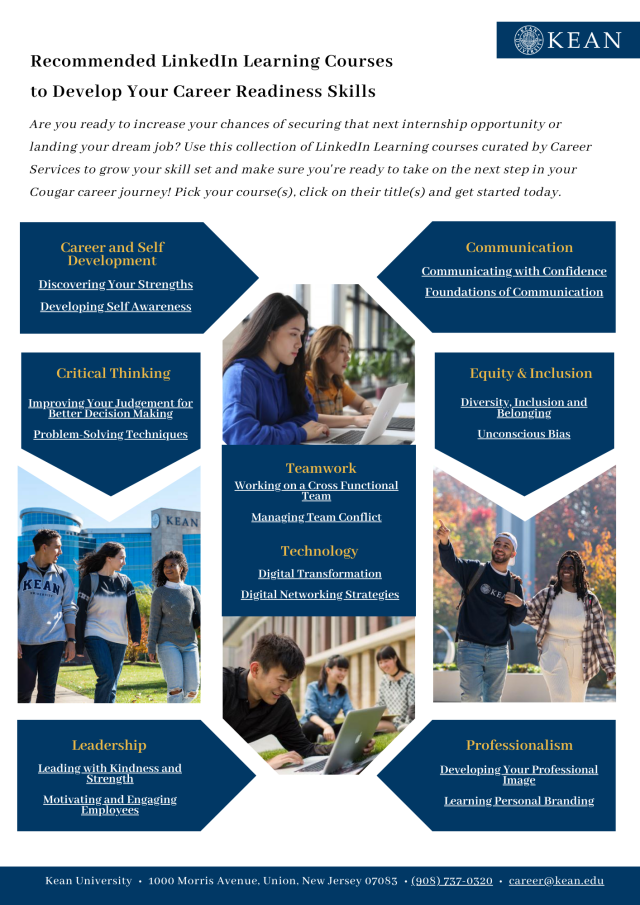 ---
Participating in The Cougar Climb? Don't forget to add the badges you acquire along the way to your LinkedIn profile as displaying your Cougar Climb accomplishments can help enhance your brand overall. Learn more about The Cougar Climb here.