NJACAC Regional College Fair
hosted by Kean University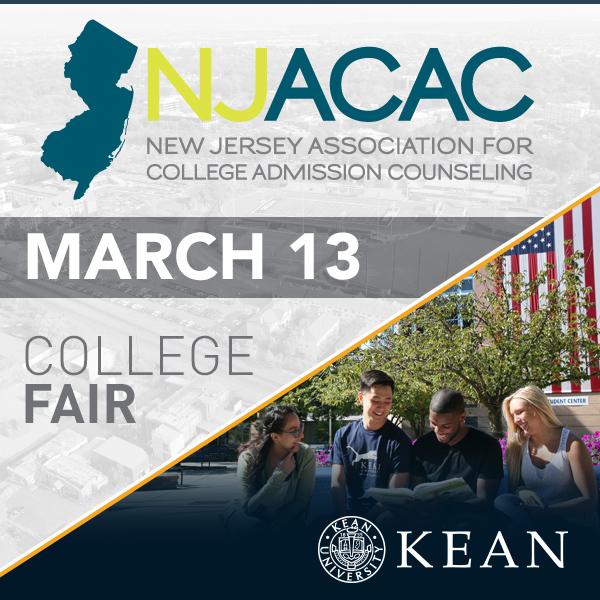 ---
Visit Kean University for the New Jersey Association for College Admission Counseling (NJACAC) Regional College Fair on Wednesday, March 13, 2019, from 10 a.m. - 12 p.m. This is your opportunity to speak with admissions representatives that have traveled across the country to meet you!
School counselors arriving by bus with their students must coordinate their visit by emailing admitme@kean.edu. Please do so at your earliest convenience.
Individual registration is provided through StriveScan, a NJACAC partner. Students will be texted and e-mailed a barcode that the colleges and universities can scan. The day after the fair, students will receive a report with information about each college with whom they scanned. Below is an up-to-date list of nearly 120 colleges and universities scheduled to attend.
| | |
| --- | --- |
| Adelphi University | New York Institute of Technology |
| Albright College | Nichols College |
| Alvernia University | Nova Southeastern University |
| American College Dublin | Pace University |
| Arcadia University | Passaic County Community College |
| Artistic Academy | Penn State University |
| Bay Path University | Pennsylvania College of Technology |
| Berkeley College | Plymouth State University |
| Bloomfield College | Purchase College, SUNY |
| Borough of Manhattan Community College (CUNY-BMCC) | Quinnipiac University |
| Bryant University | Ramapo College of New Jersey |
| Cabrini University | Rider University |
| Cairn University | RIT |
| Caldwell University | Roger Williams University |
| Catholic University of America | Rosemont College |
| Cedar Crest College | Rowan College at Gloucester County |
| Centenary University | Rowan University |
| Central Connecticut State University | Sacred Heart University |
| Chestnut Hill college | Saint Anselm College |
| College of Mount Saint Vincent | Saint Joseph's University |
| College of Saint Elizabeth | Saint Leo University |
| DeSales University | Saint Peter's University |
| Dickinson College | Salisbury University |
| Elizabethtown College | Salve Regina University |
| Elmira College | Seton Hall University |
| Embry-Riddle Aeronautical University | Simmons University |
| Fairleigh Dickinson University | Stevens Institute of Technology |
| Felician University | Stockton University |
| Florida Institute of Technology | Stony Brook University |
| Georgian Court University | Suffolk University |
| Gettysburg College | SUNY Cortland |
| Goldey-Beacom College | SUNY Maritime College |
| Harrisburg University | SUNY Oneonta |
| Hofstra University | SUNY Oswego |
| Holy Family University | Susquehanna University |
| Hood College | The Citadel |
| Husson University | The City University of New York |
| Ithaca College | The College of New Jersey |
| John Cabot University Rome, Italy | The College of Saint Rose |
| Johnson & Wales University | The Sage Colleges |
| Kean University | The University of Alabama |
| Keene State College | The University of Arizona |
| Keiser University | The University of Scranton |
| Keystone College | Tusculum University |
| King's College | University of Bridgeport |
| Kutztown University | University of Connecticut |
| La Salle University | University of Lynchburg |
| Lasell College | University of Maine |
| Lesley University | University of New England |
| LIM College | University of New Haven |
| Lycoming College | University of Pittsburgh |
| Manhattanville College | University of Rhode Island |
| Marymount Manhattan College | University of Roehampton, London |
| Massachusetts Maritime Academy | University of the Sciences |
| Mercy College | University of Vermont |
| Merrimack College | Verto Education |
| Middlesex County College | Virginia Commonwealth University |
| Monmouth University | West Chester University |
| Montclair State University | Western Connecticut State University |
| Mount Aloysius College | Western New England University |
| Mount Saint Mary College | Widener University |
| Mount St. Mary's University | William Paterson University |
| Neumann University | Xavier University |
| New England College | York College of Pennsylvania |