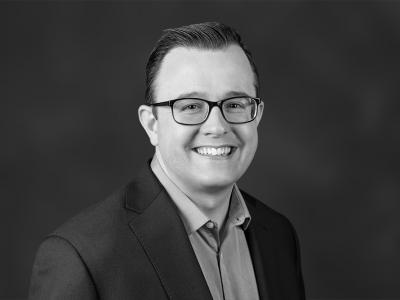 Ed Johnston is an Associate Professor at the Robert Busch School of Design in the Michael Graves College at Kean University. He is a practice-based design researcher, digital artist and educator working in a variety of contexts involving user experience design, immersive design and extended reality (XR) technologies.
Kean University was recognized as a Fast Company Innovation by Design Awards Honoree for Johnston's Room of Echoes research project at Liberty Hall Museum leveraging XR technologies to enable visitors to experience different iterations of one room in the museum over four centuries. Johnston's work has received numerous awards and grants including a NY Emmy Nomination, MARCOM Platinum Award, selection to the Lumen Prize 50, and multiple YAP grants from the D.C. Commission on the Arts and Humanities, partly funded by the National Endowment for the Arts. Johnston was the Co-director of the NY Emmy-nominated Liberty Hall 360: A Revolutionary Wedding immersive film experience, a collaboration with history faculty, students, and the greater Kean community. As Project Staff, Johnston co-directed the Liberty Hall 360 production as an important component of the MakeHistory@Kean: William Livingston's World grant, externally funded by the National Endowment for the Humanities.
Johnston's digital art has been screened and exhibited nationally and internationally, including the Lumen Prize Exhibition in Shanghai, Hong Kong, and the United Kingdom; the Los Angeles Center for Digital Art, and numerous international venues, including the recent XXI International Image Festival in Columbia. Johnston's work has been published in books, including Infinite Instances: Studies and Images of Time, The Models Virtual 2.0: Digital 3D Reconstruction as Virtual Space for Architectural History Research and several peer-reviewed outlets. He has presented his work at TEDx, the International Symposium for Electronic Art (ISEA), and the NEH Advanced Topics in Digital Humanities Summer Institute through UCLA and UMass Amherst among others. 
Johnston has collaborated with researchers across disciplines to create visualizations and interactive environments, including work with museum specialists at the Nantucket Historical Association, Liberty Hall Museum, microbiology researchers at the University of Michigan Center for Live-Cell Imaging, as well as medical animators and imaging specialists at the APDB at the National Library of Medicine, NIH.
At Kean, Johnston has received the Faculty Research Mentor of the Year Award, Presidential Excellence Award for Distinguished Creative Work, and several internal grants supporting ongoing research at Kean University.
Teaching Philosophy
I create a welcoming learning environment for my students, which focuses on exploration, collaboration and mindful feedback. My students learn to approach their projects through a design thinking methodology while developing lifetime learning habits essential for any creative professional.