2018 New Student Orientation Overview
Join the Kean community! We've planned a fun-filled and academically focused Summer Orientation for the Class of 2022.
Incoming freshman students are required to attend this important overnight orientation event. The two-day session will give you the experience of living in a residence hall, navigating campus, registering for classes, finding out about campus support services and meeting your classmates.
Please note that your participation in this event is mandatory, even if you do not intend to take advantage of on-campus housing during the school year.
All overnight New Student Orientation sessions are currently closed for sign-up. Course registration for Fall 2018 for new first-year students is still underway. Registration dates will be held throughout August 2018. Additional information for signing up to attend a registration session will be available soon.
---
What to Bring?
Protect the things you bring to Kean University. Kean University does not provide personal property insurance so students should leave electronic devices, such as iPads and laptops, at home for this event. It is your responsibility to secure all personal property while you are on campus.
Pajamas
Change of Clothes
Bedsheets
Comforter
Pillow
Pillow Case
Towel

Toiletries
Cell Phone
Cell Phone Charger
Any needed medications
KeanWISE log in information
Photo identification
Download your 'pack list' here »
---
Check-In / Check-Out
Download the Orientation Map »
Check-In will be from 2:30 p.m. to 4:30 p.m. in the Vaughn-Eames Parking Lot.
Check-Out will be on the following day beginning at 4 p.m. Check-out will occur in the Freshman Residence Hall. Students that are being picked up may have their rides pick them up from the Vaughn-Eames Parking Lot.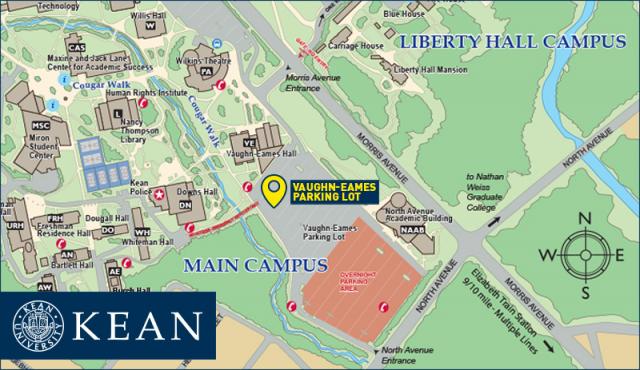 ---
Disability Services
Disability Services is here to provide assistance and accommodations for all students with physical, medical, learning, emotional and/or psychological documented disabilities both temporary and permanent. Any student requiring an accommodation due to a disability needs to contact The Office of Disability Services two weeks prior to their selected NSO session. Office of Disability Services can be reached at 908-737-4910 or disabilityservices@kean.edu.