High School Dual-Credit Course
The Holocaust Resource Center offers the dual-credit program Holocaust, Genocide and Modern Humanity (ID 1800) to New Jersey schools. The dual-credit course provides an opportunity for motivated high school students to earn university credit at a reduced fee and access the HRC's many resources. 
We are proud to host ID 1800 in more than forty New Jersey schools in the following counties:
Bergen
Burlington
Essex
Hudson
Middlesex
Monmouth
Morris
Passaic
Somerset
Sussex
Union
For more information or to learn how your district can participate, please contact: Sarah Coykendall, Managing Assistant Director at 908-737-4632 / coykends@kean.edu
ID 1800 at Monmouth Regional High School
Joe Nappi teaches the dual-credit ID1800 Holocaust, Genocide and Modern Humanity at Monmouth Regional High School and serves as his district representative to the Diversity Council. Since taking over the Holocaust class, he has taken over 600 students to the United States Holocaust Memorial Museum in Washington, D.C. where he has been honored to serve as a Museum Teacher Fellow since 2019. His work in challenging his students to "Be the Change" they wish to see in the world has seen his students pursue a variety of philanthropic endeavors, taking on problems both local and global. His students have pursued campaigns to end human trafficking, infuse Holocaust and Genocide education in curricula nationwide, and raise money for refugee resettlement in the United States…just to name a few! Check out Joe's featured blog on the PBS Teachers Lounge: "10 Tips for Teaching About the Holocaust":
https://www.pbs.org/education/blog/10-tips-for-teaching-about-the-holocaust-with-confidence
ID 1800 at Summit High School
Since 2019, Summit High School has partnered with the HRC to allow students the opportunity to earn college credit through our dual-enrollment course. Mr. Harpster's ID 1800: Holocaust, Genocide, and Modern Humanity class at Summit High School worked with the Jewish Federation of Greater MetroWest NJ to participate in the "Adopt a Survivor" program. For the Spring 2022 semester, Mr. Harpster's class became familiar with a Fran Malkin's life before, during, and after the Holocaust. Following their correspondence with Fran, students worked on a project that informs viewers, students, and community members of Fran's story. The students created a window display, which represents a different part of Frans story. There is a description in the middle of the top windows. The glass that is inside each windowpane was taken from broken pieces that were puzzled back together, almost like a mosaic. The students pledged to continue to tell her story in the years to come.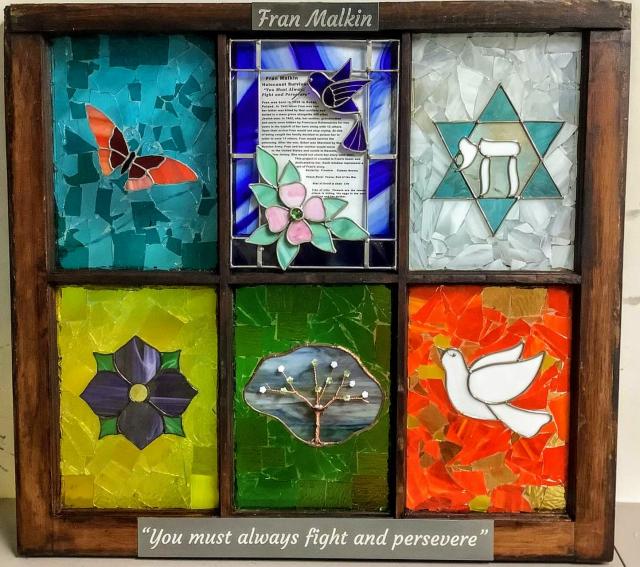 ID 1800 at Montclair High School
Montclair High School's ID 1800 Holocaust, Genocide, and Modern Humanity courses participated in the Holocaust Council's Adopt-a-Survivor Program sponsored by the Jewish Foundation of Greater Metro West NJ Fall 2020. The students were paired with Otto Salamon, who was a young Jewish boy in Budapest during World War II. After meeting with him (virtually), they decided to commemorate his story by creating interactive websites. The websites included maps tracing Otto's journey, original artwork, and facts to help understand Otto's story and experience. As the student "takeaways" on the websites demonstrate, they found working with Otto very rewarding and his story is one that they carry with them forever.
To view the websites, click:
During Fall 2021, Otto Salamon, a Holocaust survivor, returned to speak to Montclair's ID 1800 classes. Otto told the first part of his story this morning and took the time to answer students' questions. Otto will return in a few weeks to tell the second half of his story. The students are also reading his memoir, Dodging Death: A Family on the Run. The students will complete a project later in the semester to commemorate Otto's story.
"I am thankful that I was able to visit the United States Holocaust Memorial Museum with the knowledge that I have attained through this course. Doing so allowed me to piece together words with concrete evidence, resulting in a deeper understanding of events and further compassion for the victims involved in the Holocaust."
John E. Riley Elementary School, South Plainfield