Lectures and Memorials
Each year, the Holocaust Resource Center delivers two hallmark events - the Murray Pantirer Scholars' Lecture and Yom HaShoah memorial service - as well as commemorative programs for International Holocaust Remembrance Day and Kristallnacht. The HRC also hosts various programs with Kean University's Human Rights Institute; communities with a history of genocide, including Cambodians and Sudanese; and organizations such as Facing History and Ourselves and Echoes & Reflections. We are also interested in partnering with religious communities, educational institutions and nonprofit organizations.
---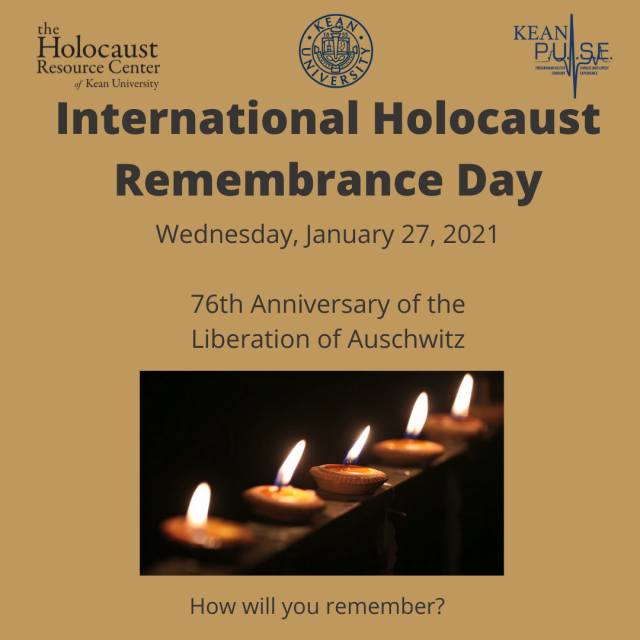 International Holocaust Remembrance Day
January 27, 2021 
The HRC was a community partner with JRoots for their Passing the Torch ceremony and the Holocaust Center for Humanity for their community performance of Dear Erich for IHRD this year. 
---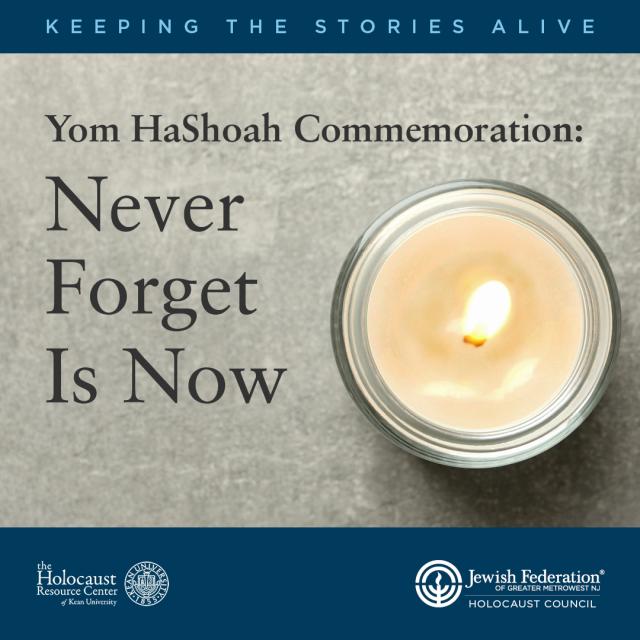 Yom HaShoah - Virtual Program 
Save the Date: April 7, 2021 at 7pm
Each spring, the HRC partners with the Holocaust Council of Greater MetroWest to present the Yom HaShoah memorial program. Check back for more information on this year's program in the coming weeks.
---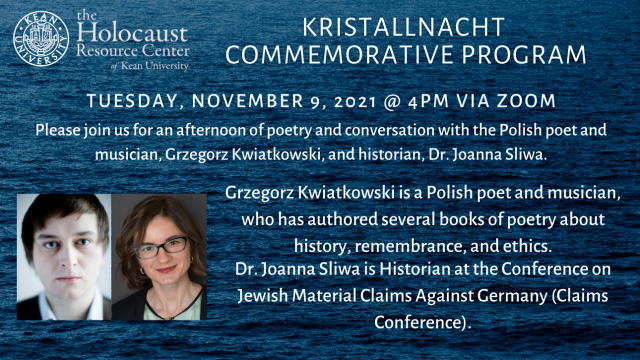 Kristallnacht/The November Pogrom -- Via Zoom
Save the Date: November 9, 2021 at 4pm
Please join us for an afternoon of poetry and conversation with the Polish poet and musician, Grzegorz Kwiatkowski, and historian, Dr. Joanna Sliwa.
Grzegorz Kwiatkowski is a Polish poet and musician, who has authored several books of poetry about history, remembrance, and ethics. He is a member of a psychedelic rock band Trupa Trupa. Kwiatkowski 's music and literary works have featured in international outlets including The Guardian (UK), CBC (Canada), Los Angeles Times, Rolling Stone, Billboard, and NPR.
Dr. Joanna Sliwa is Historian at the Conference on Jewish Material Claims Against Germany (Claims Conference). Her own research focuses on the Holocaust in Poland and on Polish Jewish history. She has worked as an educator, researcher, translator, and consultant. Dr. Sliwa's first book, Jewish Childhood in Kraków: A Microhistory of the Holocaust (Rutgers University Press, 2021), received the 2020 Ernst Fraenkel Prize from the Wiener Holocaust Library.
The HRC holds annual Kristallnacht/The November Pogrom programs at Kean Union and Kean Ocean with Ocean County College, and collaborates on various initiatives with Kean University's General Education department, Center for Interdisciplinary Studies, Master of Arts in Holocaust and Genocide Studies and Jewish Studies programs, Hillel student group, and partner organizations. 
---
Murray Pantirer Annual Scholars Lecture Series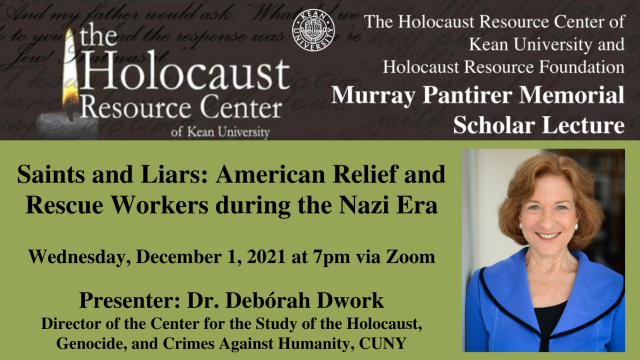 Saints and Liars: American Relief and Rescue Workers during the Nazi Era
Presented by: Dr. Debórah Dwork -- Director of the Center for the Study of the Holocaust, Genocide, and Crimes Against Humanity, CUNY
Save the Date: December 1, 2021 at 7 pm via Zoom
Description: A number of Americans — Quakers, Unitarians, secular people, Jews — traveled to points around the globe to offer relief, and to rescue victims of Nazi Germany. Exploring the derring-do and the daily grind of these intrepid souls, Debórah Dwork opens a window on the role of the unpredictable and the irrational.
Debórah Dwork is renowned for her scholarship on Holocaust history and a leading authority in this field. Her award-winning books include Children With A Star; Flight from the Reich; Auschwitz; and Holocaust. In 2020, Dwork received the International Network of Genocide Scholars Lifetime Achievement Award.
---
About the Murray Pantirer Annual Scholars Lecture Series:
Last year's lecture was on December 2, 2020 and featured Dr. Marion Kaplan, Skirball Professor of Modern Jewish History at NYU.
Named for the late Holocaust survivor and HRC founder Murray Pantirer, the dynamic annual lecture series has attracted thousands of visitors to the Kean University campus. Among the noted guest scholars, theologians, survivors and dignitaries are: 
Nobel Prize Laureate Elie Wiesel z"l
Chief Rabbi of Israel Israel M. Lau
Deborah Dwork (Clark University)
Sir Martin Gilbert z"l
Christopher Browning (UNC - Chapel Hill)
Gerda Weissman Klein
Recordings of all lectures are available through the HRC Library. 
We are pleased to share with you part of the 1986 Murray Pantirer Memorial Scholar Lecture with honored guest Elie Wiesel, Holocaust survivor, Author and Activist, Nobel Peace Prize Winner: 
---