Annual Scholar Lecture & Commemorative Programs
Each year, the Holocaust Resource Center delivers two hallmark events - the Murray Pantirer Scholars' Lecture and Yom HaShoah memorial service - as well as commemorative programs for International Holocaust Remembrance Day and Kristallnacht. The HRC also hosts various programs with Kean University's Human Rights Institute; communities with a history of genocide, including Cambodians and Sudanese; and organizations such as Facing History and Ourselves and Echoes & Reflections. We are also interested in partnering with religious communities, educational institutions, and nonprofit organizations.
---
Yom HaShoah Commemoration — Third Voices of the Holocaust -- Via Zoom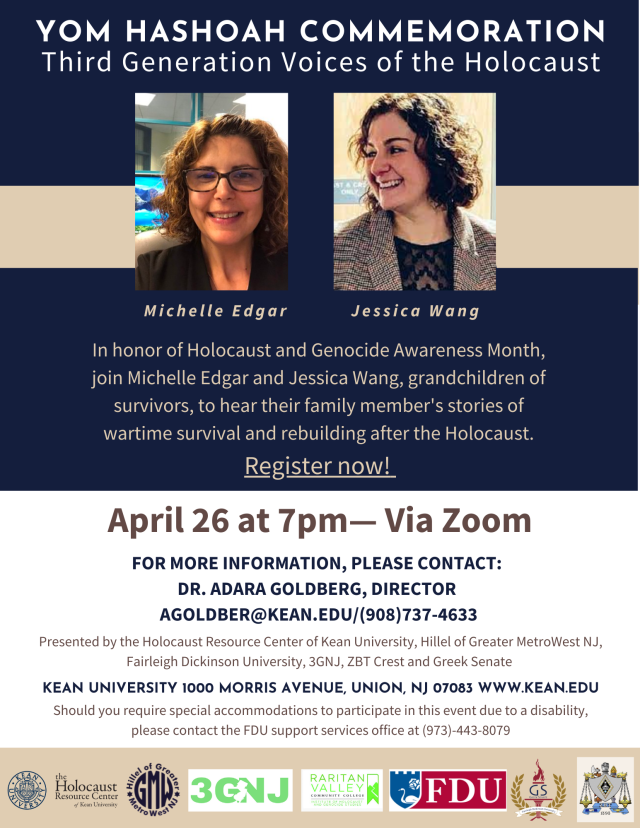 Tuesday, April 26th, 2022, at 7:00 PM 
In honor of Holocaust and Genocide Awareness Month, join Michelle Edgar and Jessica Wang, grandchildren of survivors, to hear their family member's stories of wartime survival and rebuilding after the Holocaust.
PD hours and Co-Curricular Credits will be provided!
For more information, please contact Dr. Adara Goldberg, Director agoldber@kean.edu / (908) 737- 4632 Kean University 1000 Morris Avenue, Union, NJ. 07083 www.kean.edu
Presented by the Holocaust Resource Center of Kean University, Hillel of Greater MetroWest NJ, Fairleigh Dickinson University, 3GNJ, ZBT Crest and Greek Senate
---
Yom HaShoah Commemoration -- Wednesday, April 27, 2022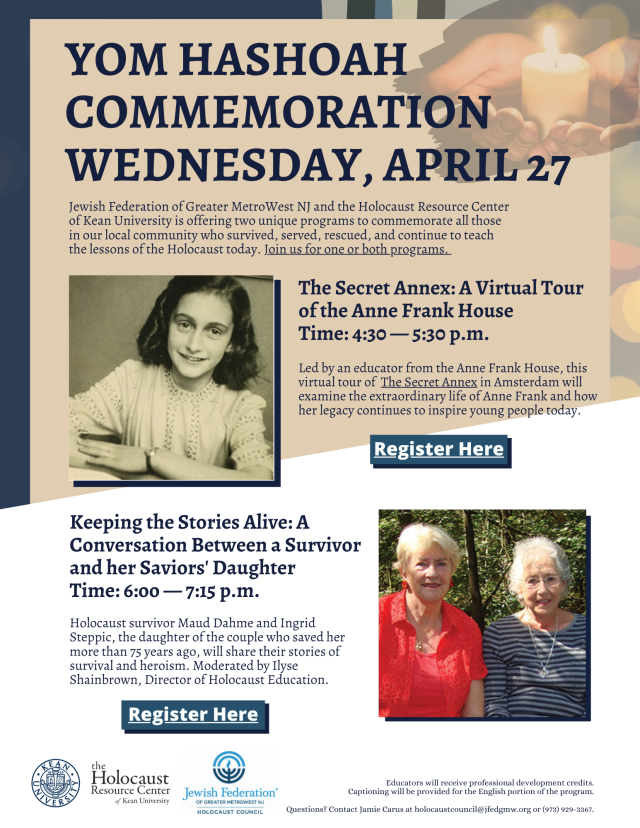 Jewish Federation of Greater MetroWest NJ and the Holocaust Resource Center of Kean University is offering two unique programs to commemorate all those in our local community who survived, served, rescued, and continue to teach the lessons of the Holocaust today. Join us for one or both programs.
The Secret Annex: A Virtual Tour of the Anne Frank House
Time: 4:30 — 5:30 p.m.
Led by an educator from the Anne Frank House, this virtual tour of The Secret Annex in Amsterdam will examine the extraordinary life of Anne Frank and how her legacy continues to inspire young people today.
Keeping the Stories Alive: A Conversation Between a Survivor and her Saviors' Daughter
Time: 6:00 — 7:15 p.m.
Holocaust survivor Maud Dahme and Ingrid Steppic, the daughter of the couple who saved her more than 75 years ago, will share their stories of survival and heroism. Moderated by Ilyse Shainbrown, Director of Holocaust Education.
---
Murray Pantirer Annual Scholars Lecture Series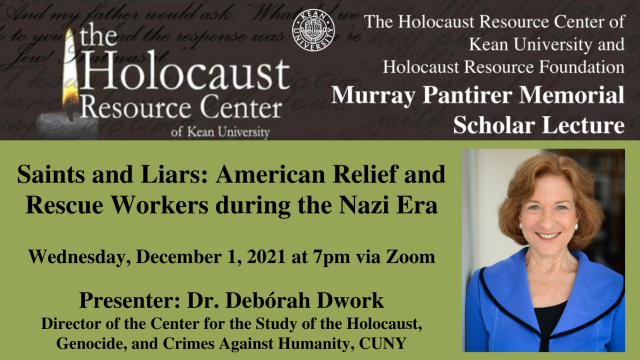 Saints and Liars: American Relief and Rescue Workers during the Nazi Era
Presented by: Dr. Debórah Dwork -- Director of the Center for the Study of the Holocaust, Genocide, and Crimes Against Humanity, CUNY
Save the Date: December 1, 2021, at 7 PM via Zoom
---
About the Murray Pantirer Annual Scholars Lecture Series:
Last year's lecture was on December 1, 2021, and featured Dr. Debórah Dwork, Director of the Center for the Study of the Holocaust, Genocide, and Crimes Against Humanity, CUNY.
Named for the late Holocaust survivor and HRC founder Murray Pantirer, the dynamic annual lecture series has attracted thousands of visitors to the Kean University campus. Among the noted guest scholars, theologians, survivors, and dignitaries are: 
Nobel Prize Laureate Elie Wiesel z"l
Chief Rabbi of Israel Israel M. Lau
Deborah Dwork (Clark University)
Sir Martin Gilbert z"l
Christopher Browning (UNC-Chapel Hill)
Gerda Weissman Klein
Recordings of all lectures are available through the HRC Library. 
We are pleased to share with you part of the 1986 Murray Pantirer Memorial Scholar Lecture with honored guest Elie Wiesel, Holocaust survivor, Author and Activist, Nobel Peace Prize Winner: 
---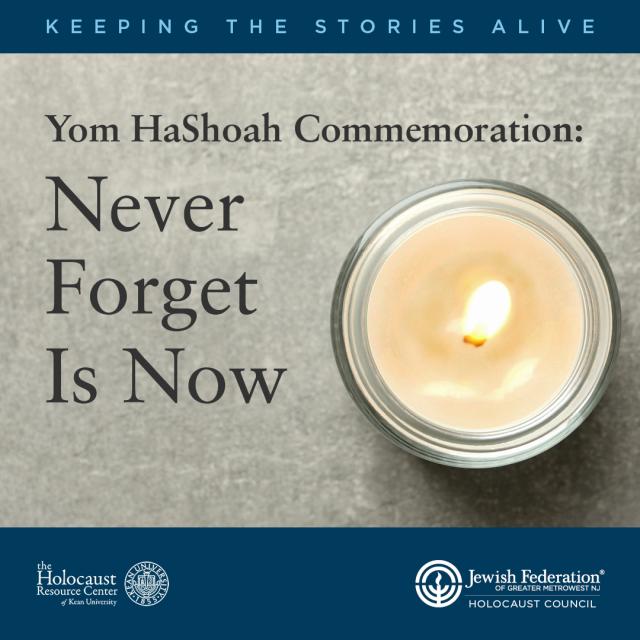 Yom HaShoah - Virtual Program 
Save the Date: April 27, 2022
Each spring, the HRC partners with the Holocaust Council of Greater MetroWest to present the Yom HaShoah memorial program. Check back for more information on this year's program in the coming weeks.
---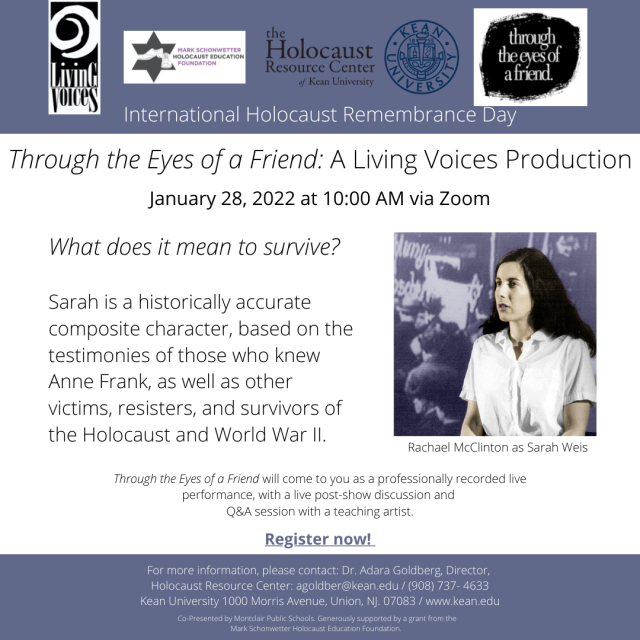 International Holocaust Remembrance Day
January 28, 2022 
What does it mean to survive?
Sarah is a historically accurate composite character, based on the testimonies of those who knew Anne Frank, as well as other victims, resisters, and survivors of the Holocaust and World War II.
Through the Eyes of a Friend will come to you as a professionally recorded live performance, with a live post-show discussion and Q&A session with a teaching artist.
---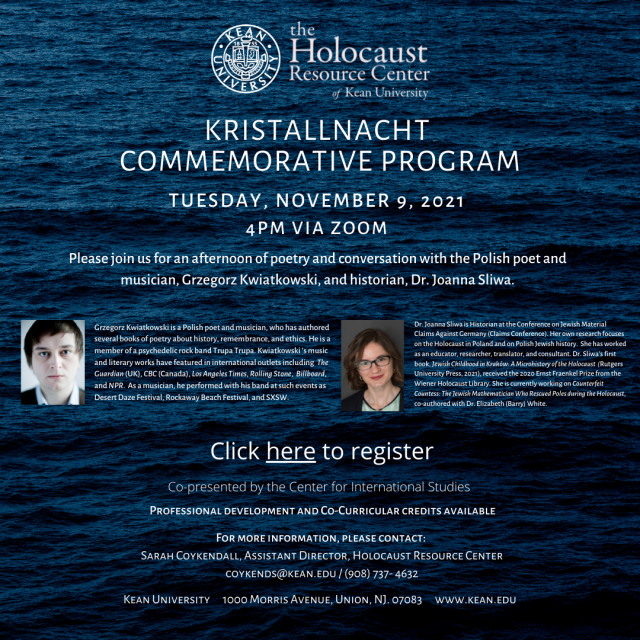 Kristallnacht/The November Pogrom -- Via Zoom
November 9, 2021, at 4 PM
The HRC holds annual Kristallnacht/The November Pogrom programs at Kean Union and Kean Ocean with Ocean County College and collaborates on various initiatives with Kean University's General Education department, Center for Interdisciplinary Studies, Master of Arts in Holocaust and Genocide Studies, and Jewish Studies programs, Hillel student group, and partner organizations. 
---