Lectures and Memorials
Each year, the Holocaust Resource Center delivers two hallmark events - the Murray Pantirer Scholars' Lecture and Yom HaShoah memorial service - as well as commemorative programs for International Holocaust Remembrance Day and Kristallnacht. The HRC also hosts various programs with Kean University's Human Rights Institute; communities with a history of genocide, including Cambodians and Sudanese; and organizations such as Facing History and Ourselves and Echoes & Reflections. We are also interested in partnering with religious communities, educational institutions and nonprofit organizations.
Murray Pantirer Annual Scholars Lecture Series
This year's lecture is on December 2, 2020 at 7pm via Zoom.  Join us for a community program featuring Dr. Marion Kaplan, Skirball Professor of Modern Jewish History at New York University.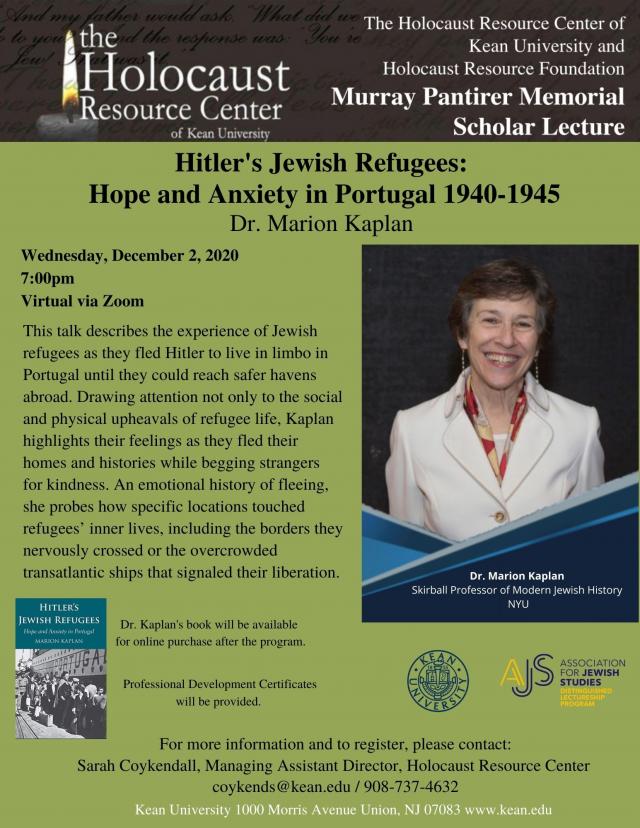 Named for the late Holocaust survivor and HRC founder Murray Pantirer, the dynamic annual lecture series has attracted thousands of visitors to the Kean University campus. Among the noted guest scholars, theologians, survivors and dignitaries are: 
Nobel Prize Laureate Elie Wiesel z"l
Chief Rabbi of Israel Israel M. Lau
Deborah Dwork (Clark University)
Sir Martin Gilbert z"l
Christopher Browning (UNC - Chapel Hill)
Gerda Weissman Klein
Recordings of all lectures are available through the HRC Library. 
We are pleased to share with you part of the 1986 Murray Pantirer Memorial Scholar Lecture with honored guest Elie Wiesel, Holocaust survivor, Author and Activist, Nobel Peace Prize Winner: 
---
Yom HaShoah - Virtual Program 
April 20, 2020 at 7pm
Each spring, the HRC partners with the Holocaust Council of Greater MetroWest to present the Yom HaShoah memorial program. Last year's program featured an intimate dinner and educational workshop featuring Holocaust survivor Michael Bornstein and his daughter Debbie Bornstein Holinstat, public lecture with U.S. veteren and survivor of Nazi slave labor Robert Max, performances by local Jewish choirs, and a video recording of the performance of The Partisan Song by Bielski partisan, Ann Monka z"l. 
---
Kristallnacht/The November Pogrom 
November 9, 2020 
The HRC holds annual Kristallnacht/The November Pogrom programs at Kean Union and Kean Ocean with Ocean County College, and collaborates on various initiatives with Kean University's General Education department, Center for Interdisciplinary Studies, Master of Arts in Holocaust and Genocide Studies and Jewish Studies programs, Hillel student group, and partner organizations. 
---
International Holocaust Remembrance Day
January 27, 2020 
This year, the HRC co-presented a film screening of Footsteps of My Father with 3GNJ in association with the Jewish Foundation for the Righteous. In addition to the film screening, attendees also viewed the testimony of American Liberator Dr. Alvin Weinstein. Dr. Weinstein's testimony is part of the HRC's Holocaust Survivor and Liberator Testimony Collection.