Teacher training is an essential part of the Holocaust Resource Center's mission, because it provides educators with the knowledge and skill they need to bring the values of respect, understanding and empowerment to life in the classroom. 
We achieve this through high school, undergraduate and graduate courses, workshops and community outreach. The Center also administers the  Holocaust, Genocide and Modern Humanity (ID-1800) course for high school students, and the tuition-free Post-Baccalaureate Certificate in Teaching the Holocaust and Prejudice Reduction.
Thousands of students and teachers have benefited from these initiatives.
The HRC's success in developing and implementing training programs over the course of nearly four decades has established it as a regional leader in promoting awareness and education about the Holocaust. Much of this success is contributed to lasting partnerships with organizations such as History Unfolded: U.S. Newspapers and the Holocaust, the United States Holocaust Memorial Museum, the Jewish Foundation for the Righteous, the Holocaust Council of Greater MetroWest, and Facing History and Ourselves.
Suggestions for educational materials.
Citizen History: Supporting New Jersey High School Students Using "History Unfolded"
How much did Americans know about the Holocaust as it was happening? The United States Holocaust Memorial Museum (USHMM) Citizen History project "History Unfolded" is asking local students to help them find out.
Since 2019, the Holocaust Resource Center has worked with Eric Schmalz of History Unfolded to bring this exciting initiative to New Jersey.
Hear from two teachers who have implemented History Unfolded in their classrooms!
Lisette Rivera, Brick Memorial High School
The pillars of National Honor Society are: character, service, leadership, and scholarship. When students become members of the organization, we really impress the idea of service. However, in our efforts, we many times ignore scholarship and in the process, an area that our students love.
The History Unfolded project of the United States Holocaust Memorial Museum has given us the opportunity to promote and exemplify each of the pillars of NHS.

-Lisette Rivera, Brick Memorial High School
As a result of the training provided to teachers by the HRC at Kean University's Ocean campus, we were able to become a part of this amazing project. Eric Schmalz of the USHMM has virtually met with the Brick Memorial High School chapter of NHS twice to guide us through this process.
Our organization has been very excited and proud to appear in the Museum's newsletter and to get the wonderful news that New Jersey has contributed 500 articles to the project. Thank you for giving us the opportunity to be a part of this amazing work.
---
Heather Lutz, Pascack Valley High School
Students found the History Unfolded project to be authentic, challenging, informative and rewarding. We took advantage of the temporary and generous free access to newspapers.com through Ancestry during virtual learning, and it proved to be an extremely worthy endeavor. It not only improved students' research skills but also gave them experience reading historical newspapers. This task truly exemplifies "real world" involvement, and the excitement and gratification of getting an article published by the USHMM was a great reward for hard work and diligent digging. I definitely plan to implement this activity into my classes next year and to spend even more time on it.
Below are some excerpts from students' remarks:
"The perspective is so different when it's written at the time it's occurring. I learned so much from reading these articles."

-Student of Pasack Valley High school
"The hardest part of the experience was finding articles that weren't published yet. I really wanted to find something new though, so I kept on looking until I could find one."
"It was like I was living in the past."
"I loved finding the articles and even looking at the advertisements around them to see what life was like in 1941."
"America KNEW. Before Auschwitz, the world was already watching."
"I was interested in finding something from a local paper in North Carolina, which is where my family has a vacation house and is where we've been living during quarantine. I couldn't believe I found something from the exact paper that we still get delivered to our house."
Becoming Partners in Atrocity Prevention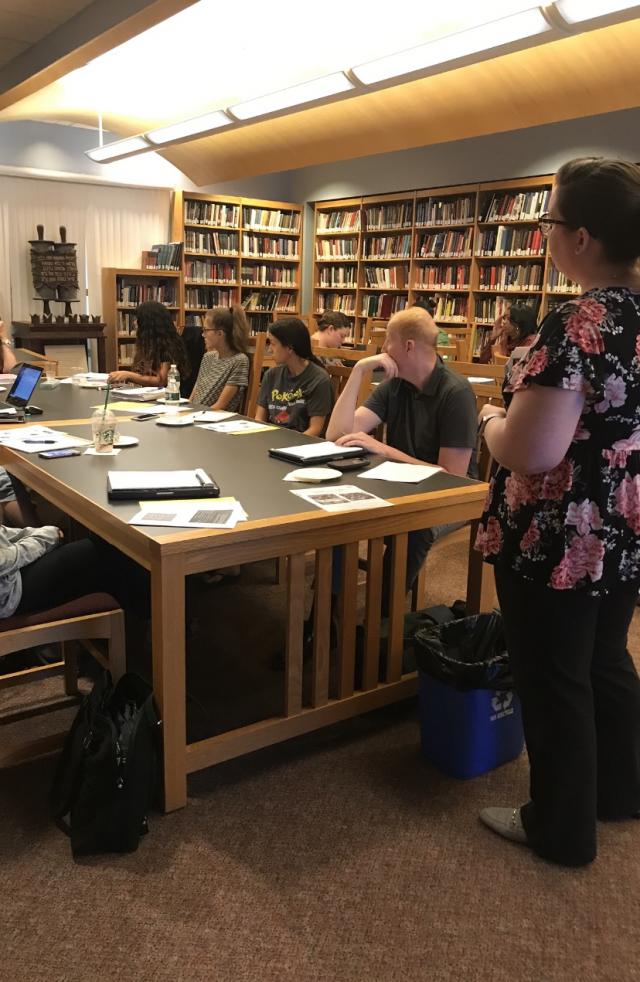 Cara Thapa, a high school Holocaust & Genocide Studies teacher, facilitated a workshop on October 2, 2019 to New Jersey educators and Kean undergraduate students and adjunct professors on her new genocide prevention curriculum. This curriculum, which fosters "partners in prevention," was developed as part of a 2019 summer internship at the Holocaust Resource Center. To use this new resource in your classroom, click here.
Kean's Holocaust Resource Center has enhanced my own education which I have been able to bring into my classroom. As a lifelong learner and a teacher, the ability to attend free professional development is essential to my career.
Holocaust and Human Behavior Teacher, Bayonne High School