Teacher training is an essential part of the Holocaust Resource Center's mission, because it provides educators with the knowledge and skill they need to bring the values of respect, understanding and empowerment to life in the classroom. 
We achieve this through high school, undergraduate and graduate courses, workshops and community outreach. The Center also administers the  Holocaust, Genocide and Modern Humanity (ID-1800) course for high school students, and the tuition-free Post-Baccalaureate Certificate in Teaching the Holocaust and Prejudice Reduction.
Thousands of students and teachers have benefited from these initiatives.
The HRC's success in developing and implementing training programs over the course of nearly four decades has established it as a regional leader in promoting awareness and education about the Holocaust. Much of this success is contributed to lasting partnerships with organizations such as The Jewish Foundation for the Righteous, Facing History and Ourselves, and the Holocaust Council of Greater MetroWest.
Suggestions for educational materials.
---
Register Now: History Unfolded Conference at Kean Ocean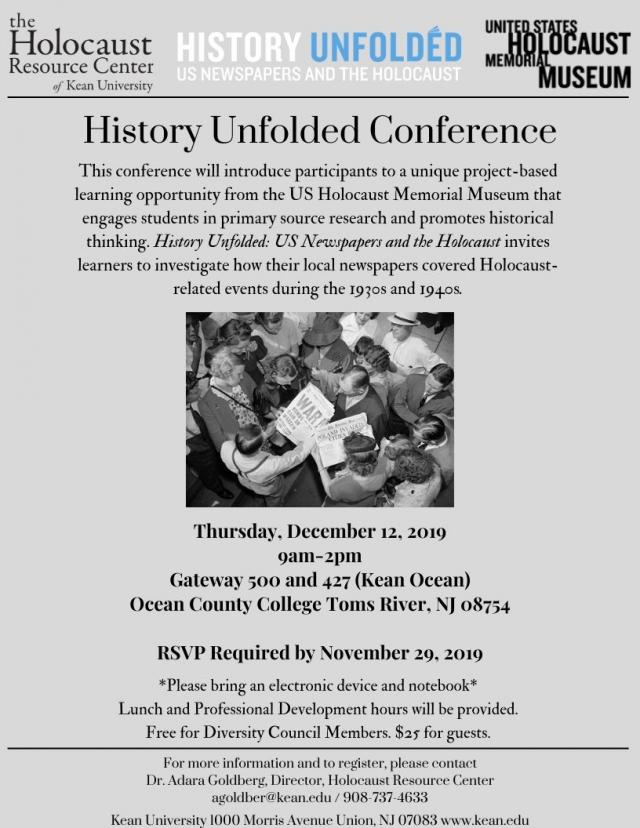 Kean's Holocaust Resource Center has enhanced my own education which I have been able to bring into my classroom. As a lifelong learner and a teacher, the ability to attend free professional development is essential to my career.
Holocaust and Human Behavior Teacher, Bayonne High School