JFR Summer Institute for Teachers
Fredy Reyes (Arthur L. Johnson High School) and Alexis Eldridge (Cranford High School) were nominated by the Holocaust Resource Center to participate in the Jewish Foundation for the Righteous' 2023 Summer Institute for Teachers. Now Alfred Lerner Fellows, Fredy and Alexis shared their insights into the program and hopes for the future of Holocaust education. Both teach a Holocaust elective in their districts as part of our dual-credit program ID 1800: Holocaust, Genocide, and Modern Humanity.
Click the link to view their interviews with NJ Spotlight News
Click the link for more information on our dual-credit program
Bringing the Life of One Holocaust Victim to the Classroom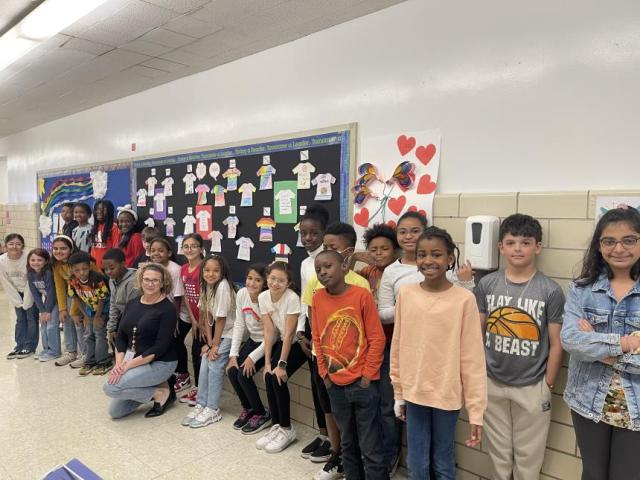 Deanne Hampton LaRue, Livingston Elementary School-"Hana's Suitcase" T-shirt Project
I teach my 4th grade students about the Holocaust by using the text, Hana's Suitcase. I find that the story of Hana Brady helps the kids relate to the intangible concept of a Holocaust by giving them something familiar to connect to - a school girl around the same age as they are. Our days spent with Hana do not delve into the atrocities that occurred during the Holocaust; instead we focus on the lessons that we, as a community, can learn from this dark period of history. To fully appreciate the historical significance, there are important words for my students to understand and become comfortable using in our discussions about "Hana's Suitcase." 

The "T-shirt Project" is our way of defining these words and exploring their effect on humanity. Students are given words to define in small groups. Each student then chooses one word to create an individual T-shirt that will send a message about its definition. The T-shirt slogans symbolize their chosen word and the appropriate place it should have in our community. For example, a destructive word such as prejudice is depicted on the T-shirt as something we want to eradicate from our world. However, a positive word such as multiculturalism is portrayed in a positive light. 

To end the lesson, we hold a ceremony in which each student presents their T-shirt to the class, speaks about its meaning, and then posts it onto our bulletin board. My hope is that the kids will remember the messages shared and take them into a better future for all.