Oral History Project
In 1982, the Holocaust Resource Center launched an oral history project to gather and preserve first-person eyewitness accounts, resulting in a unique collection of more than 200 original oral histories from local Holocaust survivors, rescuers and liberators.
The testimonies provide historical context about Jewish life in prewar Europe, the events of the Holocaust, and community rebuilding after genocide. Critical engagement with these narratives helps build meaningful connections between the antisemitism and persecution experienced by Europe's Jews, and more recent incidents of injustice, displacement and genocide in the 21st century.
Today, these oral history collections are associated with the United States Holocaust Memorial Museum in Washington, D.C., Hebrew University in Jerusalem, and Yale University in New Haven, CT. A number of the oral histories are featured in the Kean University Library's digital repository; all are available for viewing at the HRC.
Our lives are miracles, our children and grandchildren are miracles. We have the sacred duty to recognize these miracles in our daily lives, to transmit the stories of our past to the next generation.

-Rae Kushner, Holocaust Survivor (1983 Oral History)
Holocaust Testimonies in New Jersey, a book by Joseph J. Preil, Ph.D. z"l, the founding director of the Holocaust Resource Center, is based on these testimonies.
Click the links below to hear Holocaust survivor testimonies from other founding members of the HRC: 
In addition to our oral history collection, the Center houses more than 6,000 books, 350 films, and hundreds of educational materials and curricula for K-12 developed by the HRC, New Jersey teachers, and educational organizations. These include the Jewish Foundation for the Righteous, the United States Holocaust Memorial Museum, Yad Vashem, and Facing History and Ourselves.
These resources are available to students, teachers, researchers, and members of the public.
---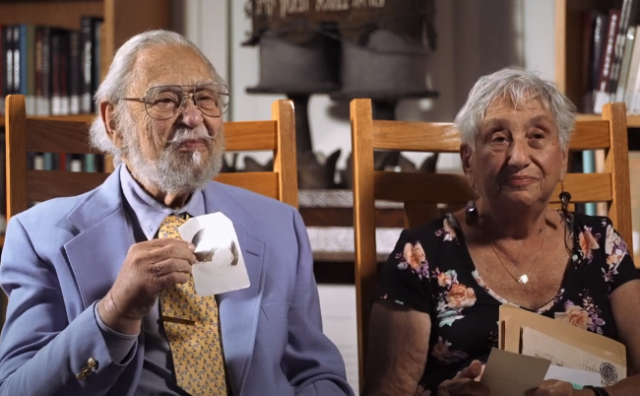 'A Shock and a Miracle': Kean Oral History Project Changes History for Family
A New Jersey family's personal history has been rewritten after taking part in the Holocaust Resource Center of Kean University's Oral History Project. They learned that a beloved uncle they believed had been murdered in Poland at the start of World War II was actually alive until at least 1943.
Peter Goldsmith, recorded his testimony in September 2021 for the Holocaust Resource Center's Oral History Project, a collection of first-hand accounts of Holocaust survivors, rescuers and liberators. 
Click this link for the full story.
Click this link for "Peter Goldsmith Middle School Lesson Plan"
Classroom Book Sets
Classroom book sets are available for a four-week loan period free of charge to Diversity Council district members. Each set contains 30 copies of the book and lesson plans. Pick-up and delivery, or courier costs, are the responsibility of the teacher, and must be scheduled during the Holocaust Resource Center's operating hours.
Testimonials
Allison Duggan, Torey J. Sabatini Elementary School in Madison, NJ
"Using "Elly: My True Story of the Holocaust" as a class read-aloud was an amazing and eye-opening experience for my fifth graders. My students already had background knowledge about the Holocaust, but to read a little girl's account was extremely impactul for them and sparked many important conversations. I am very grateful for resources, such as this book, that support educators with teaching a very difficult, but very necessary topic."